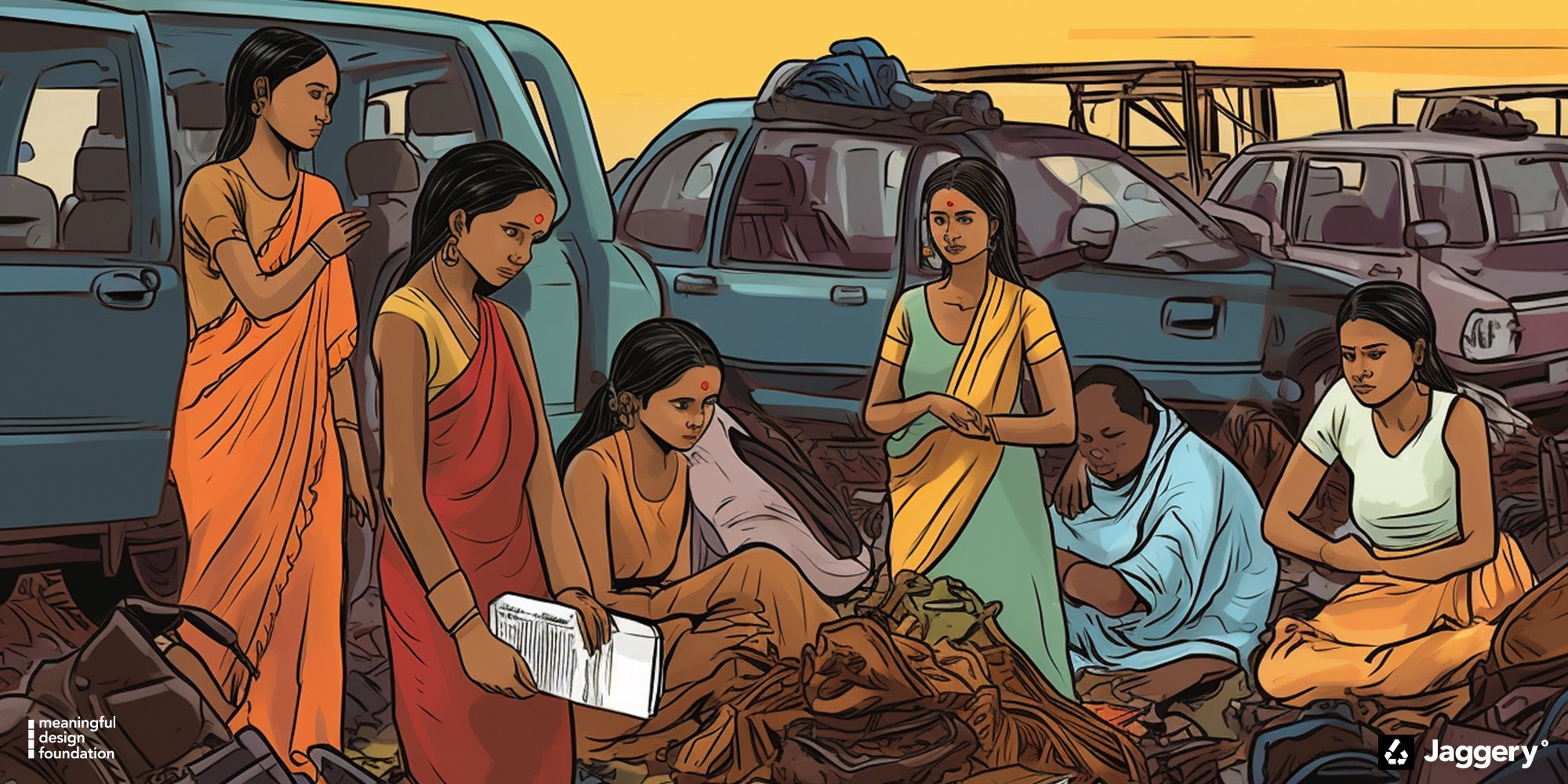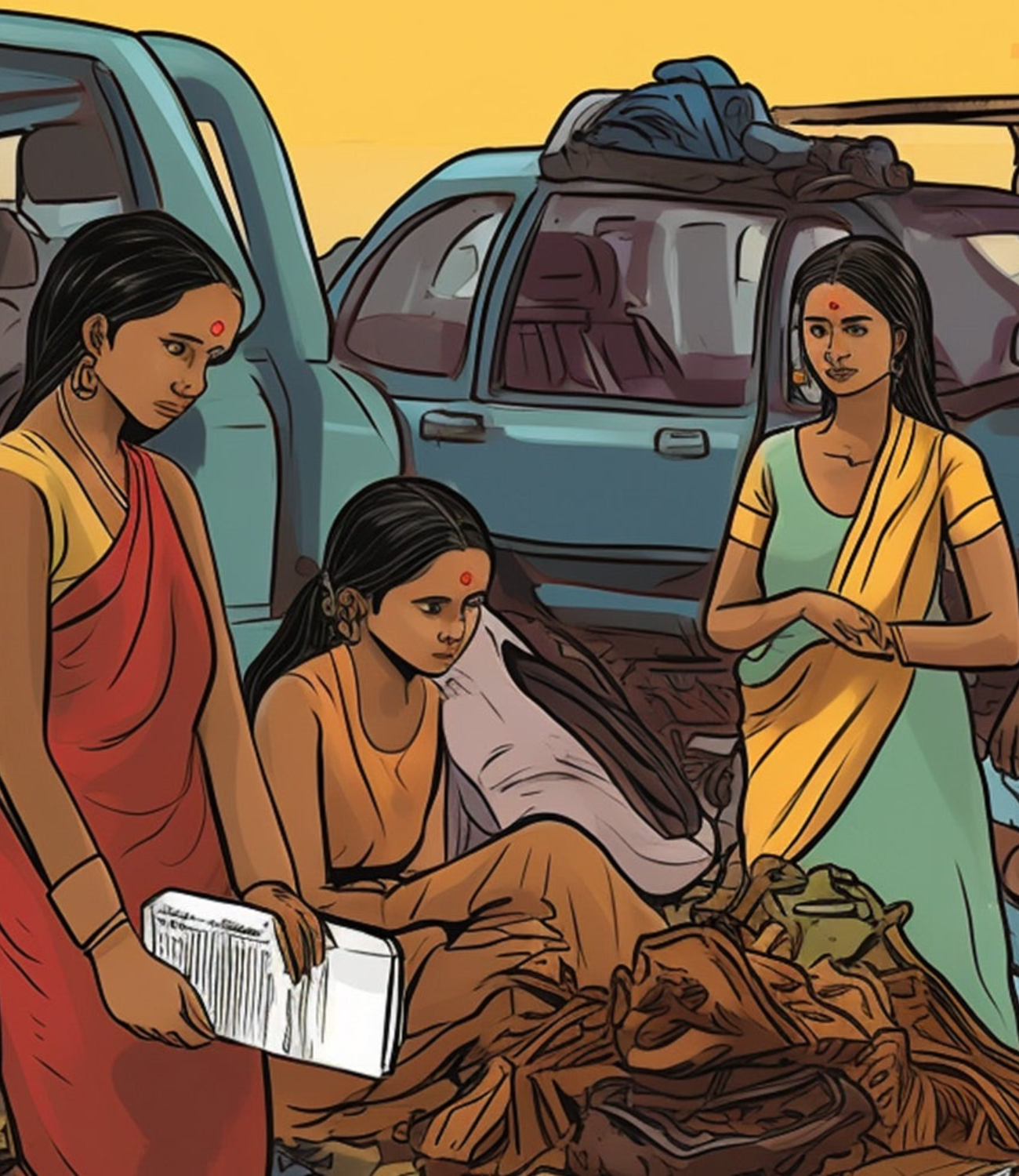 Advancing Circularity in India
Women-led Regenerative Production from Gurgaon
We utilize waste as resource and creative remanufacturing as a powerful tool to advance social equity, climate action and economic resilience with our work.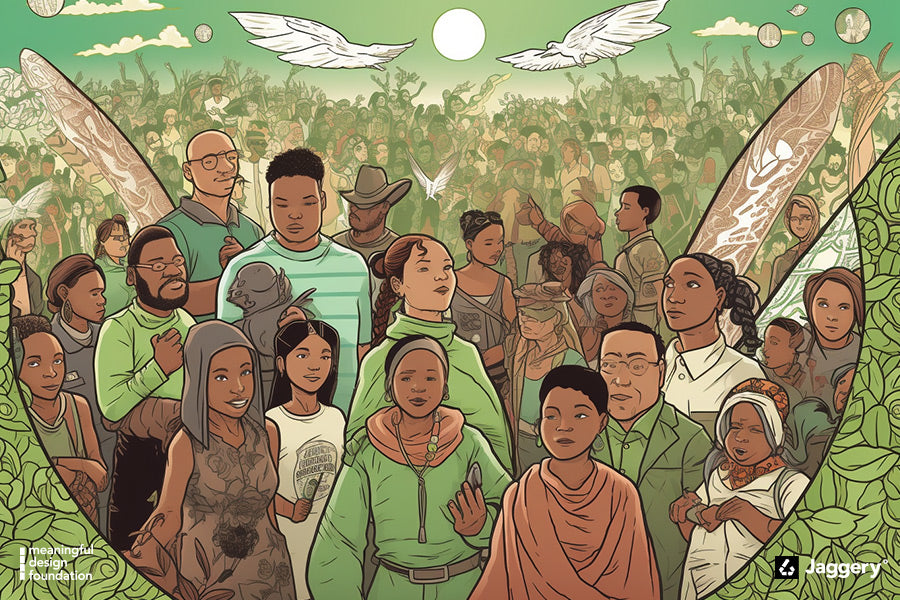 Our Vision
"To create a sustainable, equitable, and regenerative future for millions of underserved communities working towards a waste free world."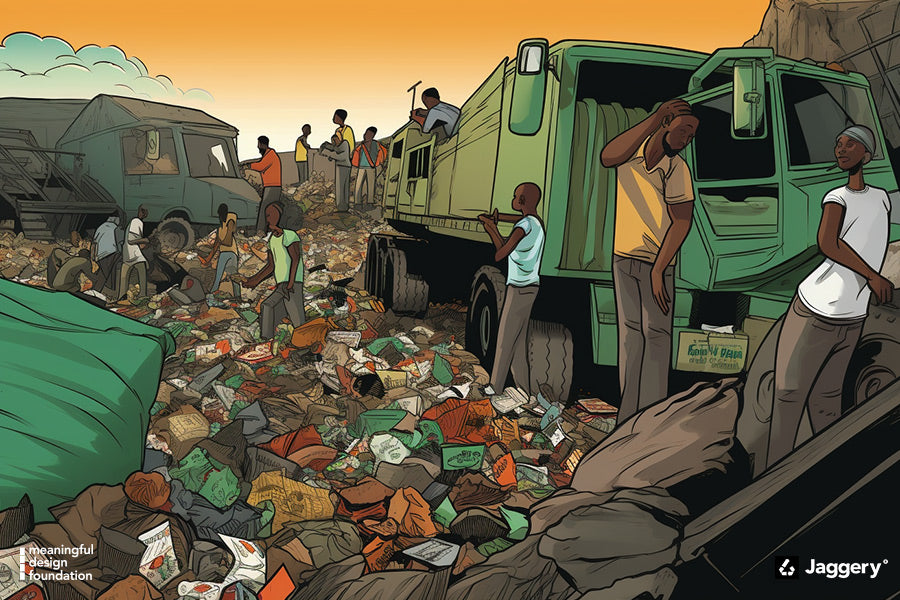 Our Mission
"To create circular jobs for the bottom of the pyramid communities in the Global South by transforming waste into high value added sustainable products."
Leadership Team

Our founding team includes a multidisciplinary designer trained in New York, a conservation architect trained in Philadelphia, and completing the trio is a retired Physics professor from Delhi University.
Waste Pickers

We rescue automotive waste and provide livelihood opportunities for waste workers in the Khajan Basti area of Mayapuri, New Delhi. We give new life to discarded materials, creating a positive impact on the environment and the lives of our waste pickers.
Master Craftsmanship

Our artisans from Bihar and Jharkhand create exceptional quality products with their skill and expertise. We are proud to empower them and uplift their communities through our work.
Women Entrepreneurs

We have established manufacturing units in Delhi, Gurgaon and Badshapur that are led by creative women. These units empower women to become financial contributors and foster confidence.
Waste as valuable recourse + Circular jobs for underserved communities = Ecomodern good with environmental and social impact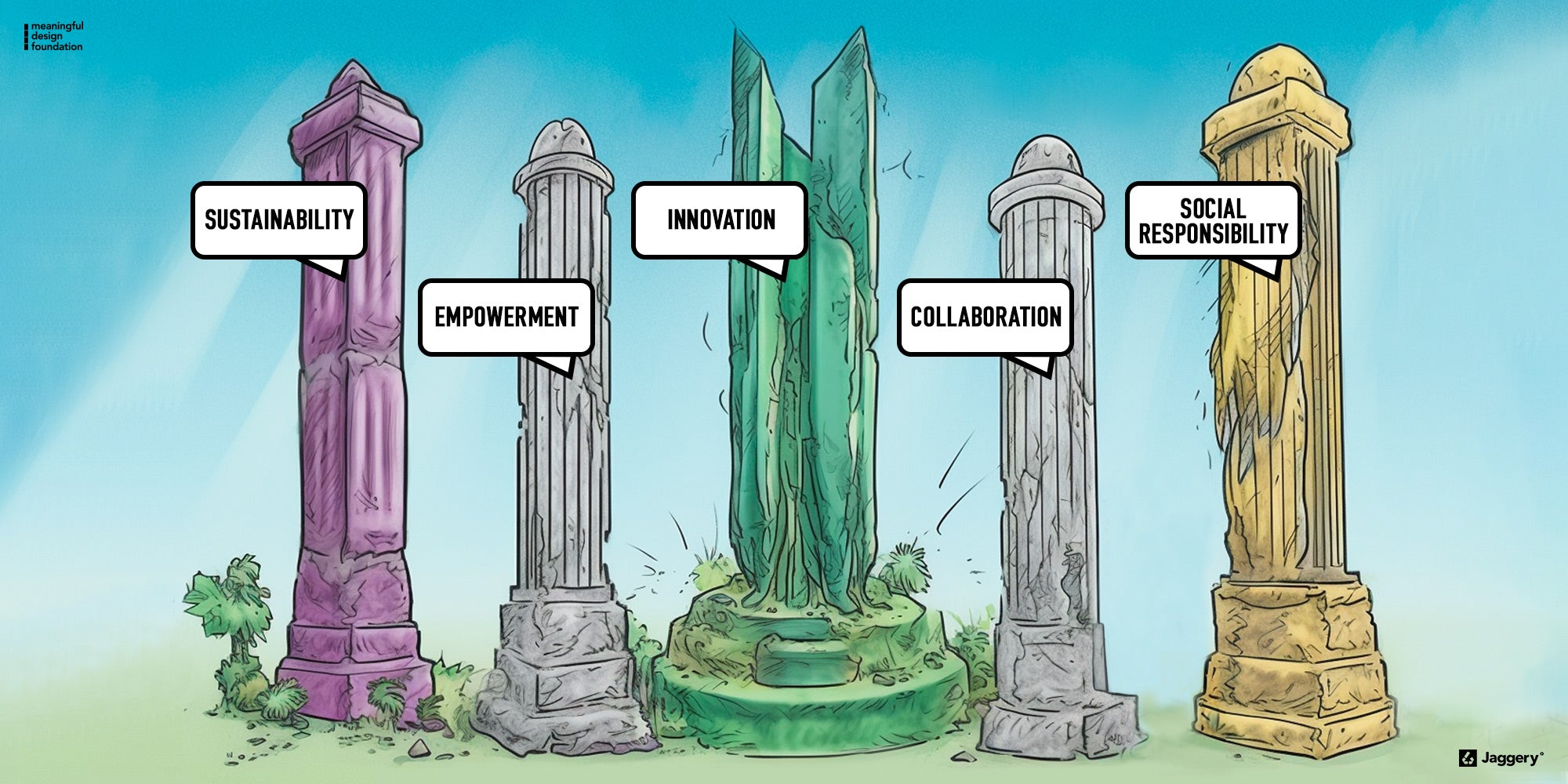 Our Values
The Five Pillars: Guiding a Sustainable Future
At Jaggery, our core values serve as the foundation of everything we do. They guide our actions and decisions, shaping our approach towards a sustainable future. These pillars - Sustainability, Empowerment, Innovation, Collaboration, and Social Responsibility - shape our vision, actions, and impact. With each pillar, we forge a path towards environmental stewardship, community empowerment, continuous improvement, collective action, and ethical accountability. Together, these values serve as our guiding light, inspiring us to create positive change and build a more sustainable and inclusive world.
Watch Our Documentary
Dumpster Diving With Jaggery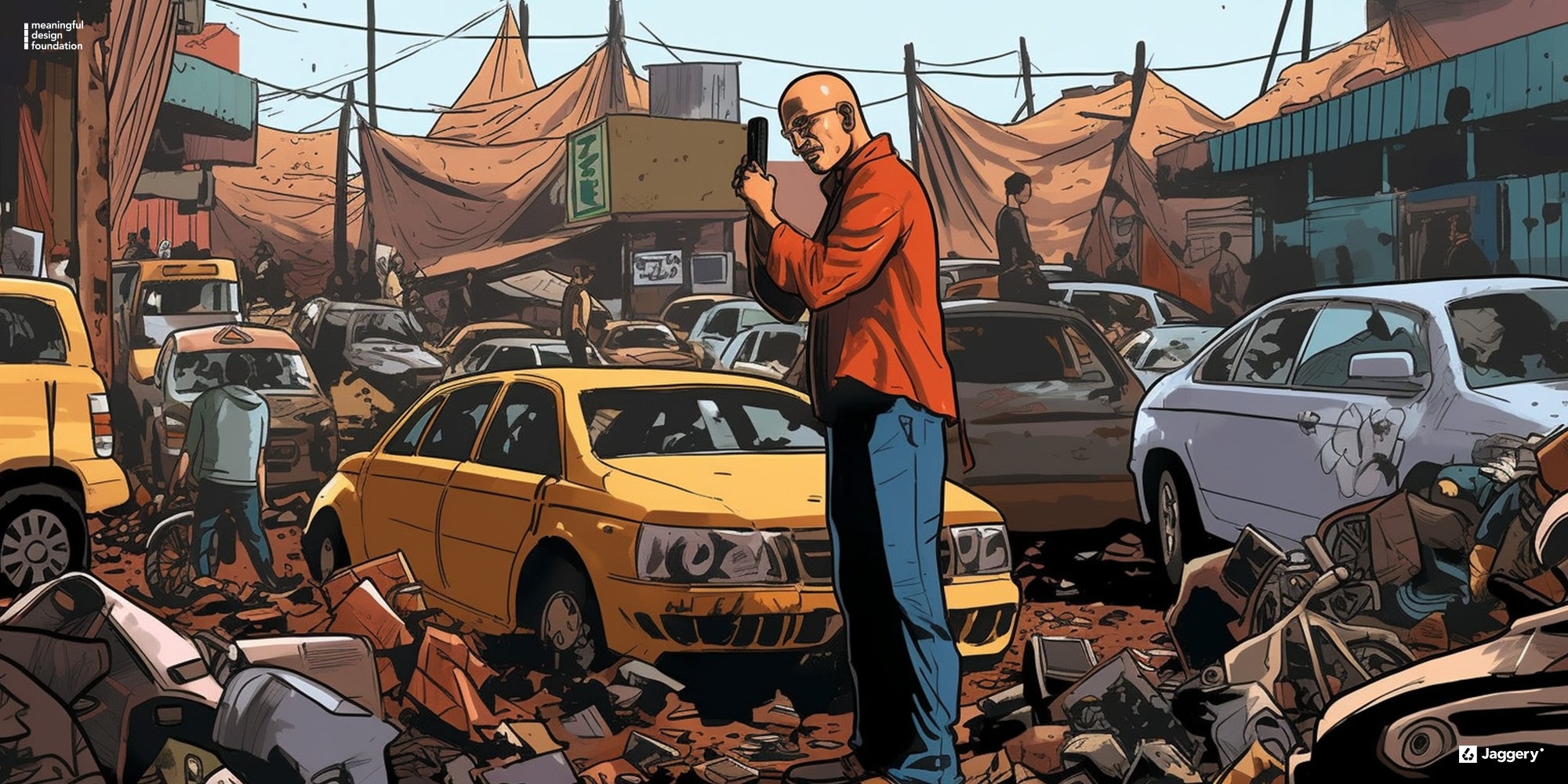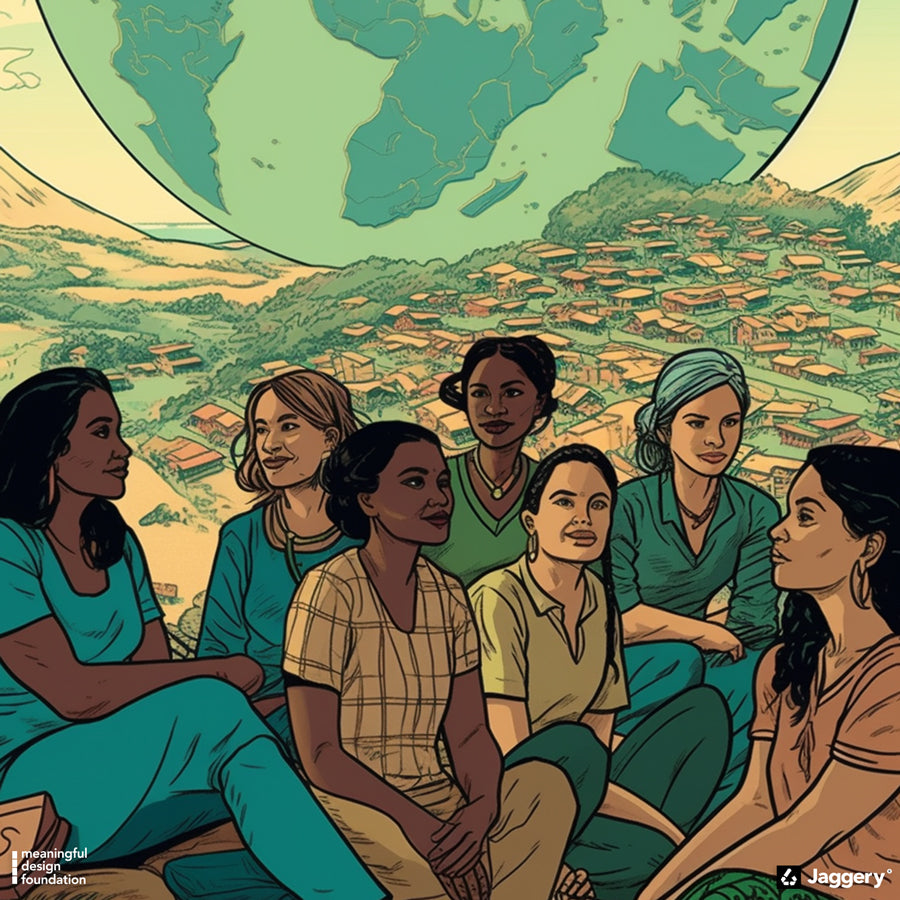 2015
On November 15th, 2015, our journey began. Our vision? To offer climate solutions from the heart of India, meeting the worldwide demand for sustainable products and services. As we delved into the space of sustainability, our hearts gravitated towards the realm of bags and accessories – a domain that truly captivated our founders' passion for diverse forms of carry.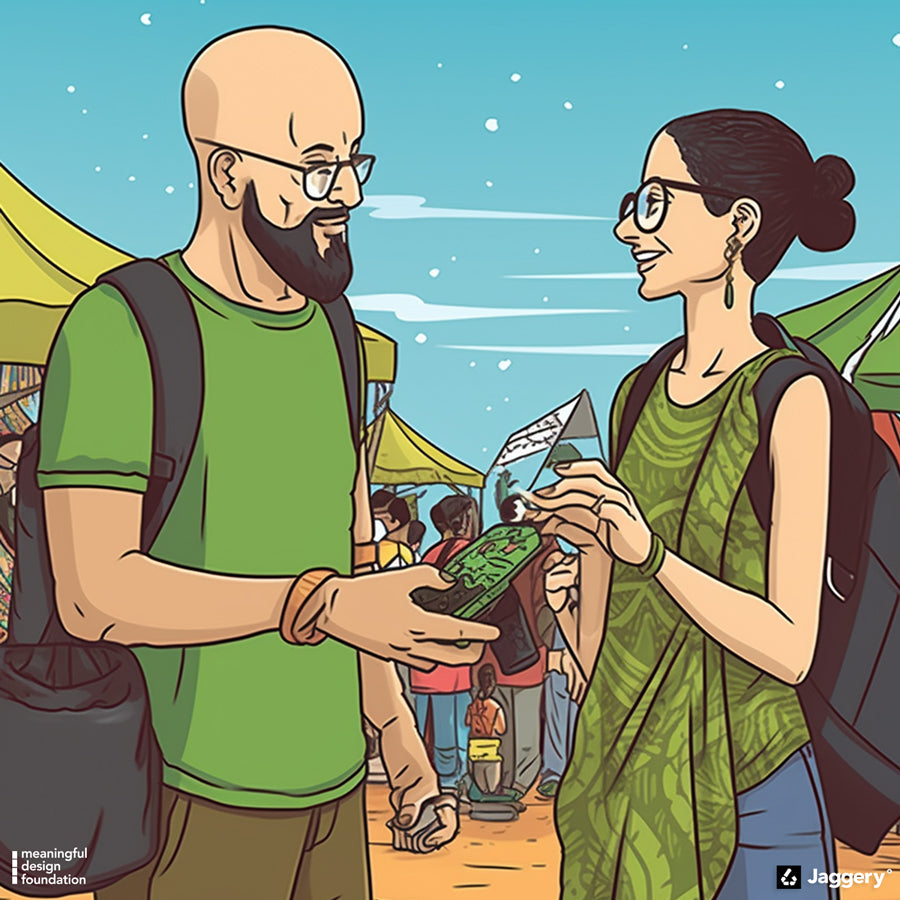 February 2016
We fondly recall our debut at the remarkable Design Fair, an exquisite sustainable design event held at the enchanting Dastkar venue in New Delhi. The aim of the fair was to showcase emerging Indian designers and their innovative creations. Despite the novelty of our upcycled products for the audience, they were embraced with great enthusiasm. Reflecting on our early interactions with customers, it's no wonder that our commitment to creating a waste-free world remains steadfast. Our passion to drive systemic change through our work continues to burn brightly.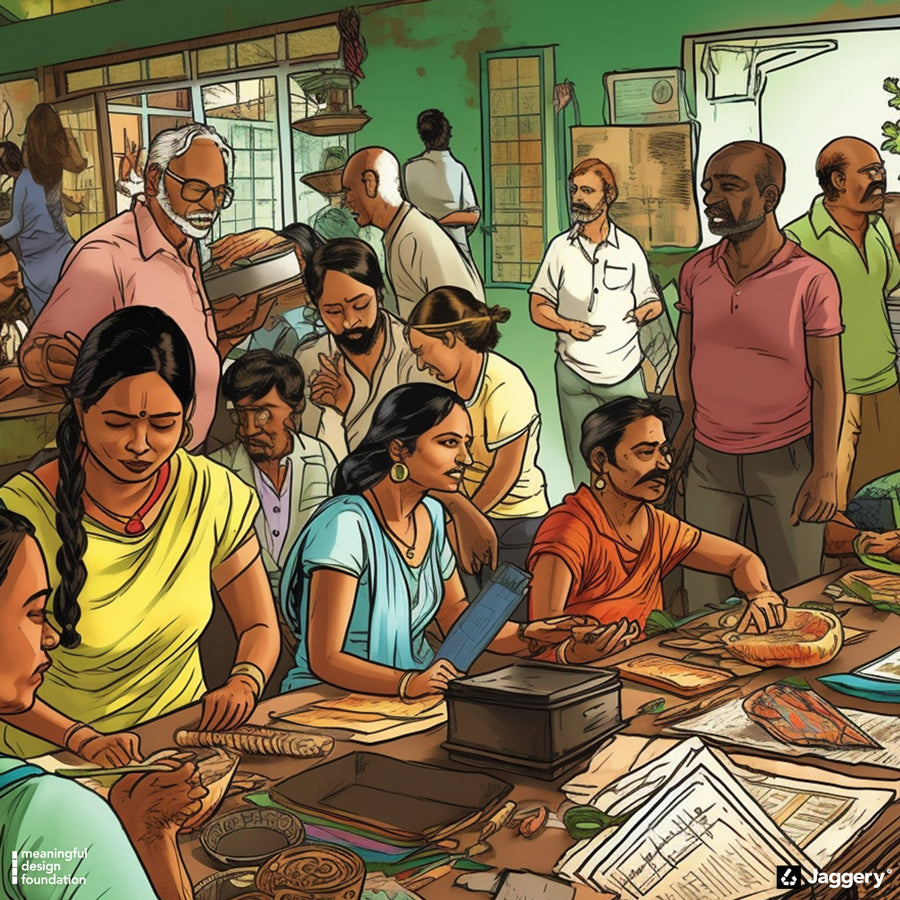 August 2016
Embracing our modest origins, we set up shop in a cozy two-room office within the vibrant Vyapar Kendra commercial complex back in August 2016. The spirited chaos of that place captured our hearts so deeply that to this day, we continue to operate from that very office, even managing to expand into neighboring spaces. It's been quite a journey, and we're humbled by the growth we've experienced.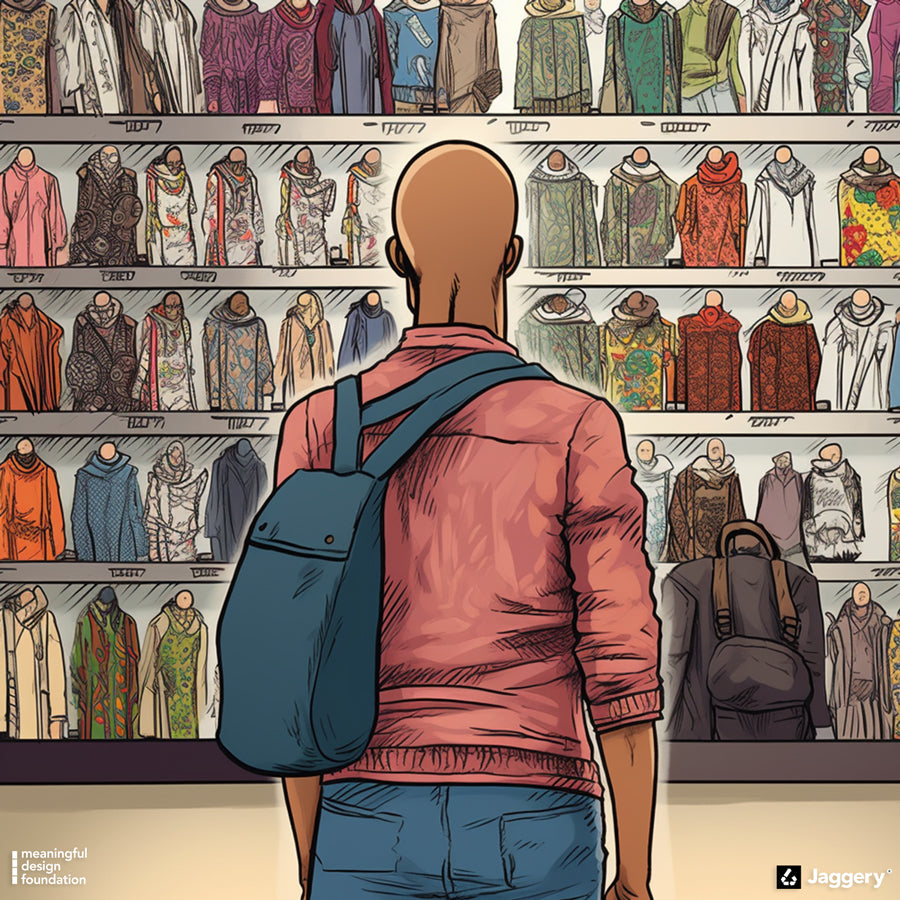 2017 - 2018
Following about a year of actively participating in events and catering to the requests of our friends and family, a remarkable milestone graced our journey. The esteemed Indian ethnic fashion house, Fabindia, entrusted us with our first B2B order. Our collaboration revolved around the artful fusion of waste generated by the crafts sector with industrial remnants like car seat belts and ex-army canvas. We co-created extraordinary upcycled bags and accessories, each possessing a unique story and purpose that were promoted at all their retail outlets in India. It was truly an honor to work alongside such a renowned partner, further fueling our humble yet hungry dedication to our craft.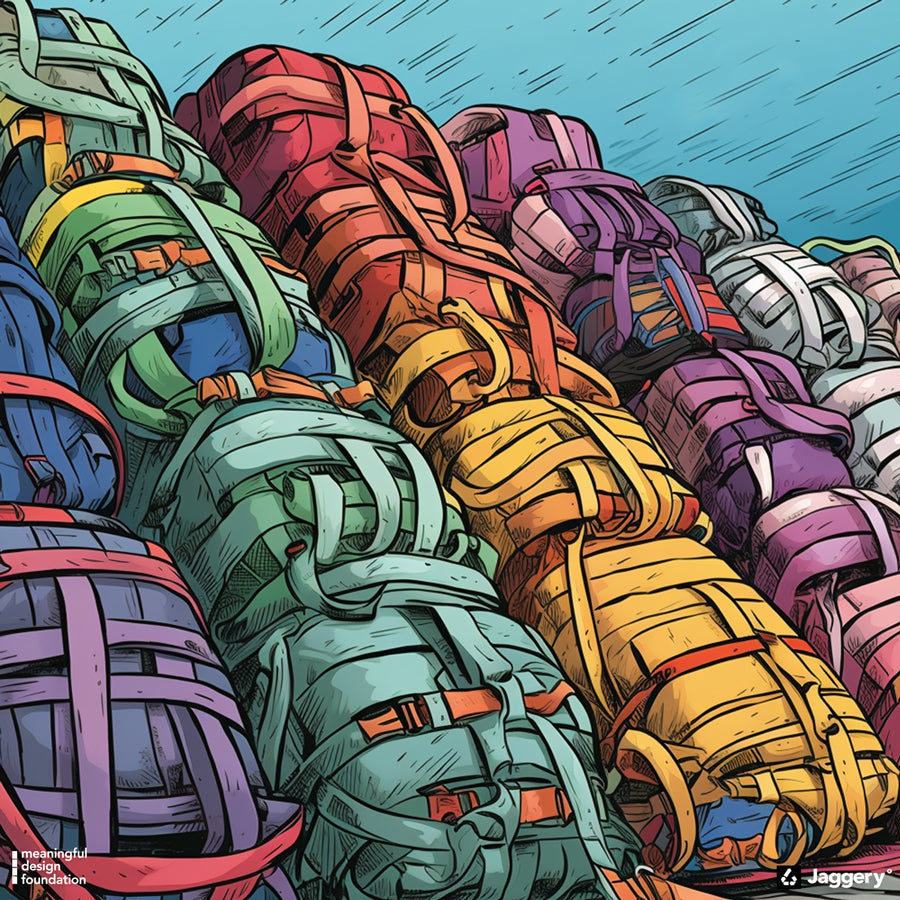 August 2018
Our material recovery journey began with industrial treasures such as car seat belts, army canvas, parachutes, and even bouncy castles. As we expanded our horizons, we welcomed the addition of waste from the airline cargo industry. These cargo belts, much like car seat belts, boast of a vibrant array of colors. This discovery sparked our experimentation and we started merging car seat belts and cargo belts - infusing our design language with an exciting new dimension. This was also the year that we formally aligned ourselves with the UN SDGs.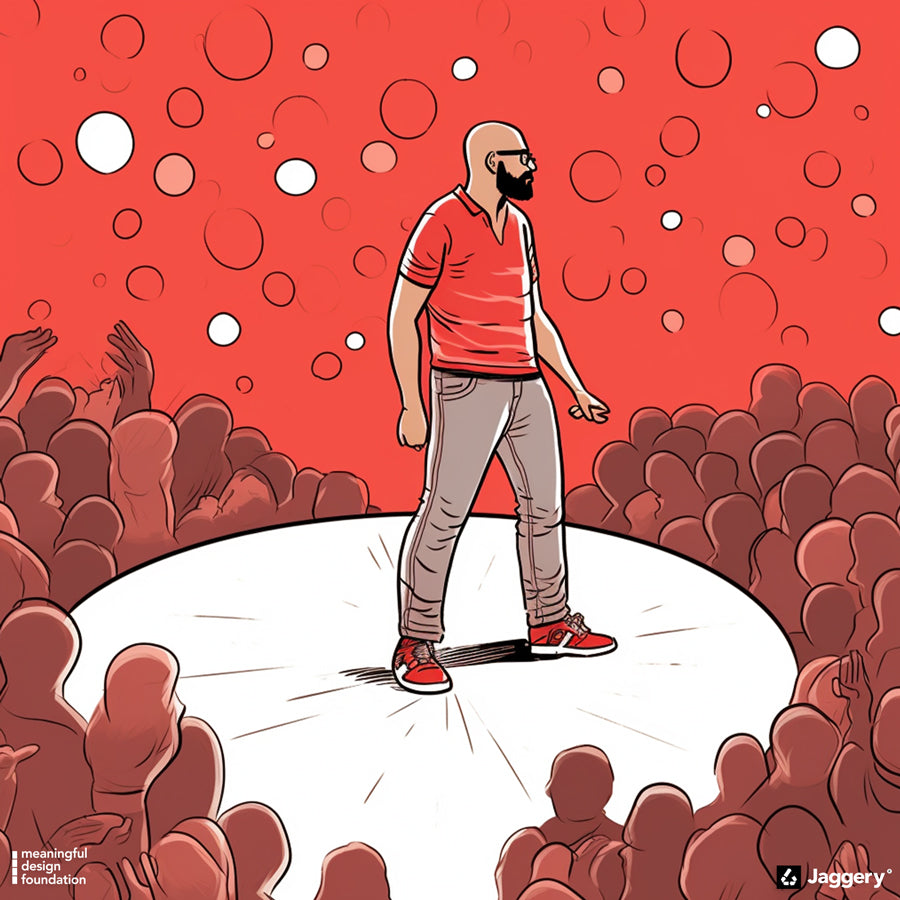 November 2019
A momentous occasion unfolded as we received an order from the prestigious Olympics. Our task: crafting one-of-a-kind vintage roll-top backpacks, which were showcased at their official retail outlet in Switzerland. The opportunity left us humbled and deeply honored. Adding to our whirlwind of excitement, we were invited to deliver our first TEDx talk, where we had the privilege of sharing our ideas with esteemed individuals from the US Embassy and American Embassy school, along with their children living in India. It was a really awesome experience, reminding us of the power our humble endeavors hold to inspire and connect with others across borders.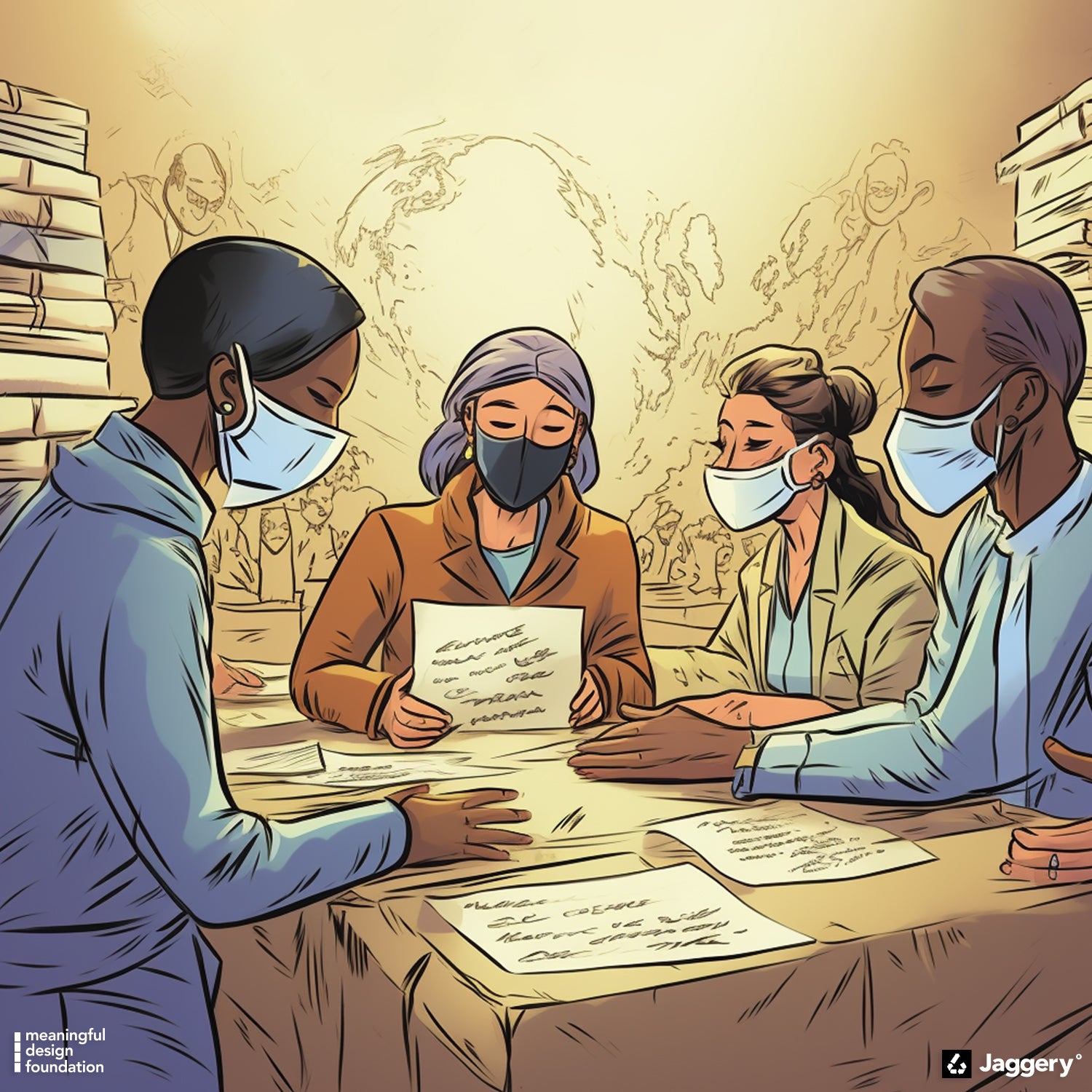 2020
During the challenging times of the COVID pandemic, our progress slowed significantly. However, we found solace in a meaningful collaboration with Peace By Piece International, aligning our efforts to promote our products in the conscious corporate gifting realm within the United States. Through this partnership, we began receiving modest monthly orders, allowing us to navigate the first wave and endure. Additionally, we took pride in being among the pioneering custom fabric mask makers in India, utilizing textile waste to craft unique and sustainable masks. In our humble resilience, we embraced the opportunity to contribute to the well-being of others while striving to make a positive impact in the face of adversity.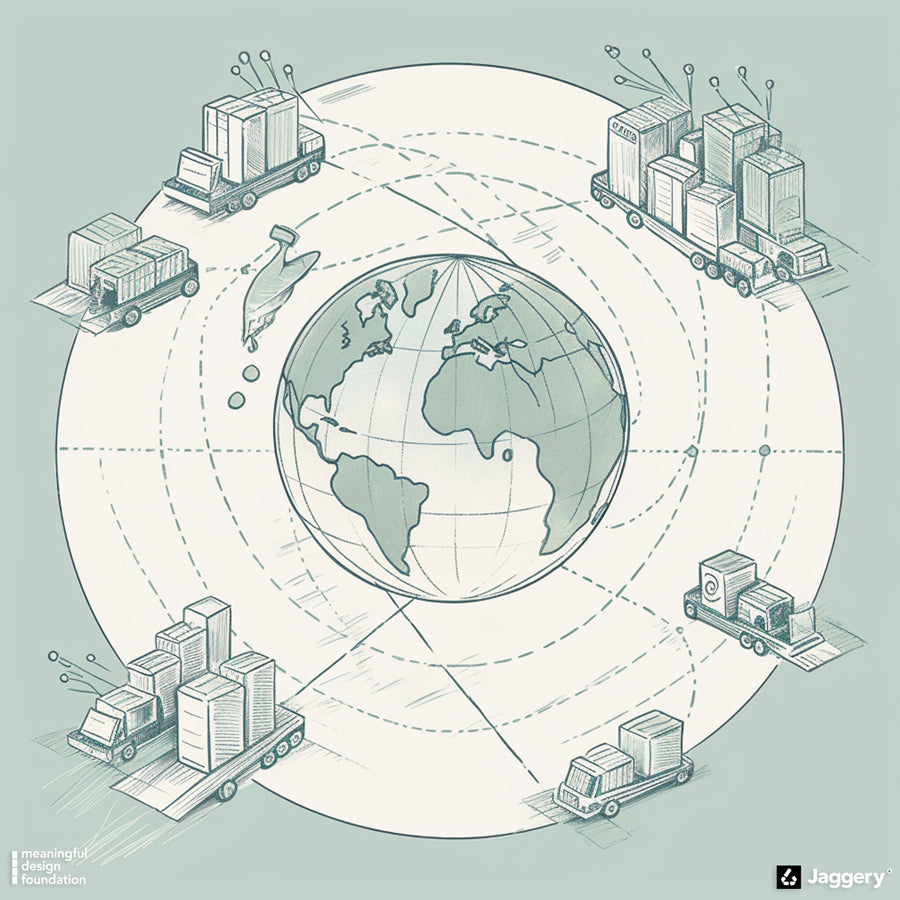 2021
As time progressed, our track record of fulfilling numerous B2B orders grew, alongside the steady influx of international and domestic D2C orders. Recognizing the demand for our offerings, we embarked on expanding our global network, forging valuable connections along the way. Through our dedication and commitment, we earned the esteemed approval of Good Market, a significant milestone that paved the path for our membership in Catalyst 2030. These humble yet cool achievements strengthened our resolve to contribute meaningfully to a brighter future, as we joined forces with like-minded changemakers on a collective journey towards catalyzing positive change by the year 2030.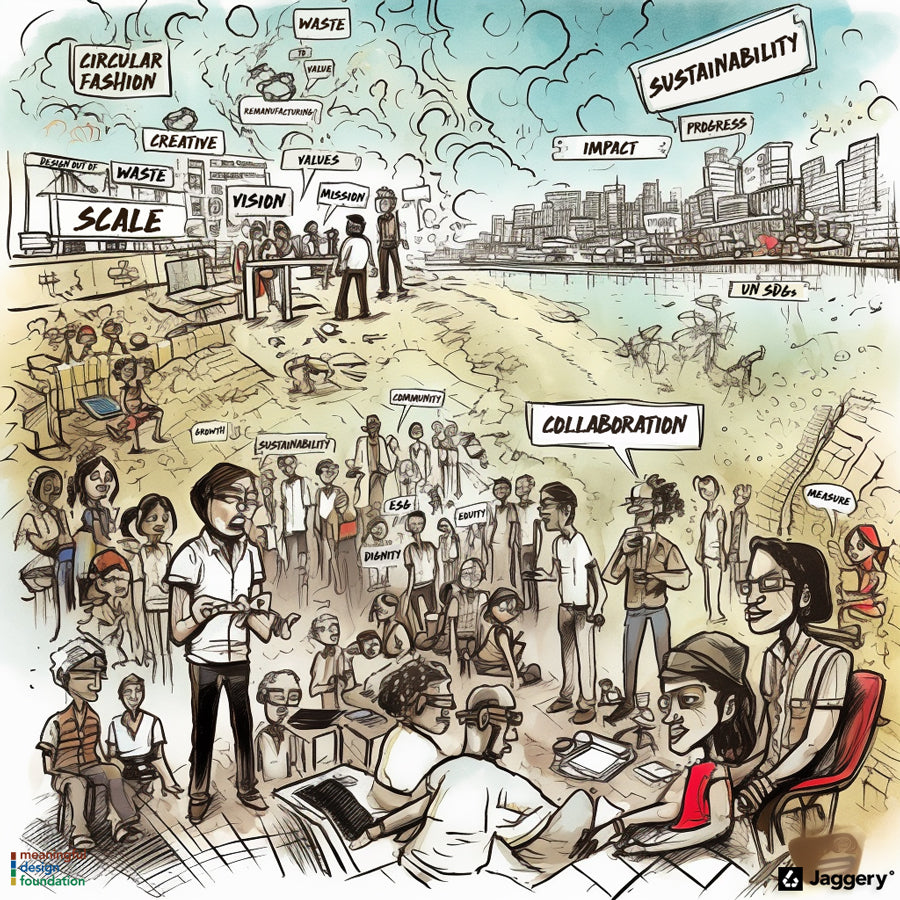 2022
Harnessing the collective power of social enterprises worldwide, we embarked on impactful collaborations that transcended borders. Through these meaningful partnerships, we joined forces with like-minded visionaries in pursuit of shared goals. In our relentless quest to cultivate an ecosystem of positive change, we actively participated in diverse activities within India, yielding fruitful outcomes. As a testament to our journey, we were humbly invited to deliver our second TEDx talk, this time in the vibrant and intellectually rich city of Pune. This cool and awe-inspiring opportunity further reinforced our commitment to spreading ideas that resonate, touching hearts and minds as we collectively strive for a better tomorrow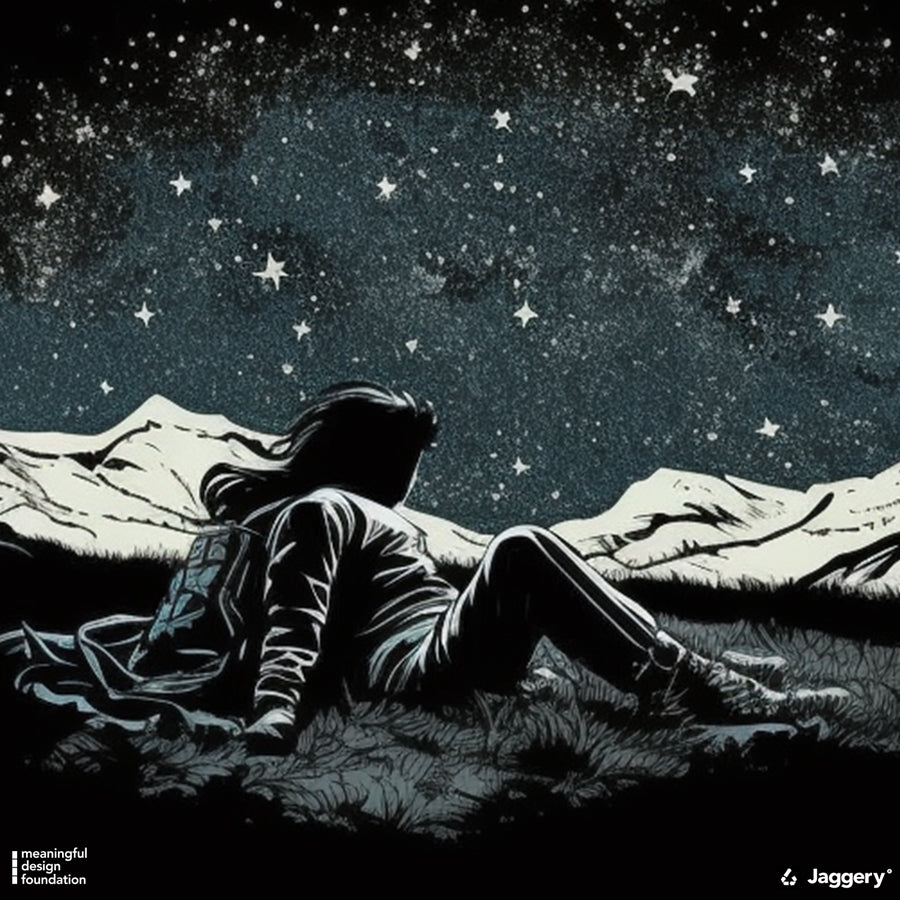 2023
Fast forward to the present, our journey has witnessed the completion of two remarkable cohorts. The first, a collaboration with Acumen, led us through an extraordinary experience in the Green Growth Accelerator. The second, initiated by the Industree Foundation from Bangalore, brought us the privilege of joining forces with the Regenearth community. These transformative programs have propelled us to implement our Bagtivism framework, diverting metric tons of waste from landfills and fostering economic resilience for all involved. As we relentlessly pursue our mission, we are not only shaping a greener future but also contributing to the overall happiness of society. With a humble and inspired spirit, we set our sights on scaling our operations and expanding our reach throughout India, forging meaningful partnerships with established organizations in both the corporate and social sectors. Together, we aspire to make a lasting and positive impact.
FAQ
Have a question ? We are here to help.
How are your products made sustainable?

Our products are made sustainable through upcycling and repurposing materials, embracing circular economy principles, and supporting fair trade practices, ensuring minimal environmental impact and positive social change.
How are your products good for me?

Our products are ethically crafted, sustainable, and of high quality, providing you with unique low carbon footprint choices for your lifestyle needs. By supporting our cause you will reduce waste from entering our landfills and help create employment opportunities for the disadvantaged communities.
How do you calculate the environmental impact of your products?

We calculate our environmental impact through a comprehensive life cycle assessment, considering factors such as raw material sourcing, manufacturing processes, transportation, and end-of-life considerations, to measure carbon emissions, resource consumption, and waste generation.
How do you measure the social impact of your products?

We assess our social impact through a rigorous evaluation that encompasses various aspects, including the livelihoods and well-being of artisans, gender equality and empowerment, community development, and support for marginalized groups. We utilize impact measurement frameworks and collaborate with partners to gather data and track the positive social outcomes generated by our products.
Where can I find your products?

You can find our products on our website and select retail partners who share our commitment to sustainability and ethical practices.
I have a question, how can I contact you?

For any questions or inquiries, please reach out to our customer support team via email or through the contact form on our website, and we will be happy to assist you promptly.