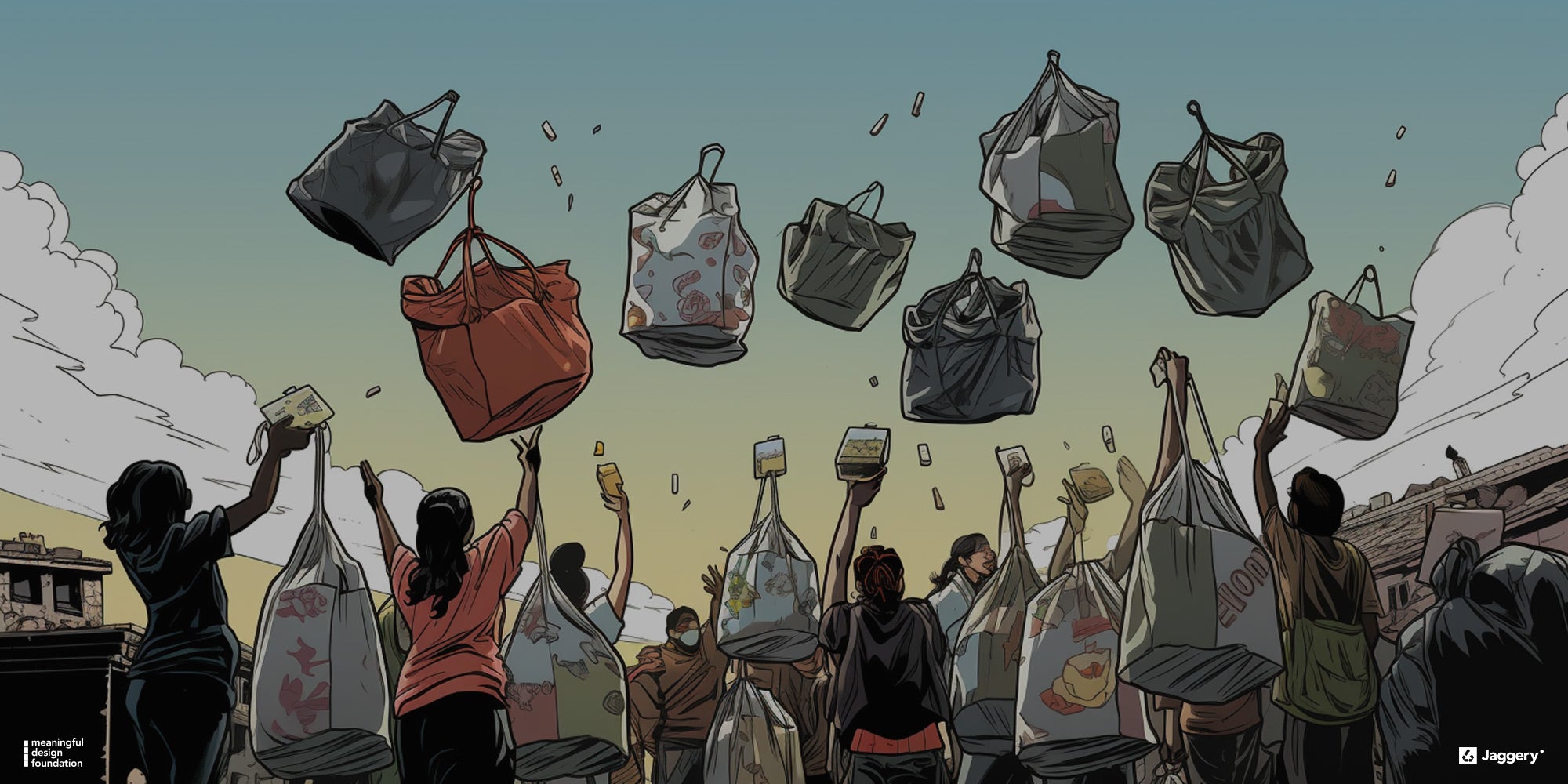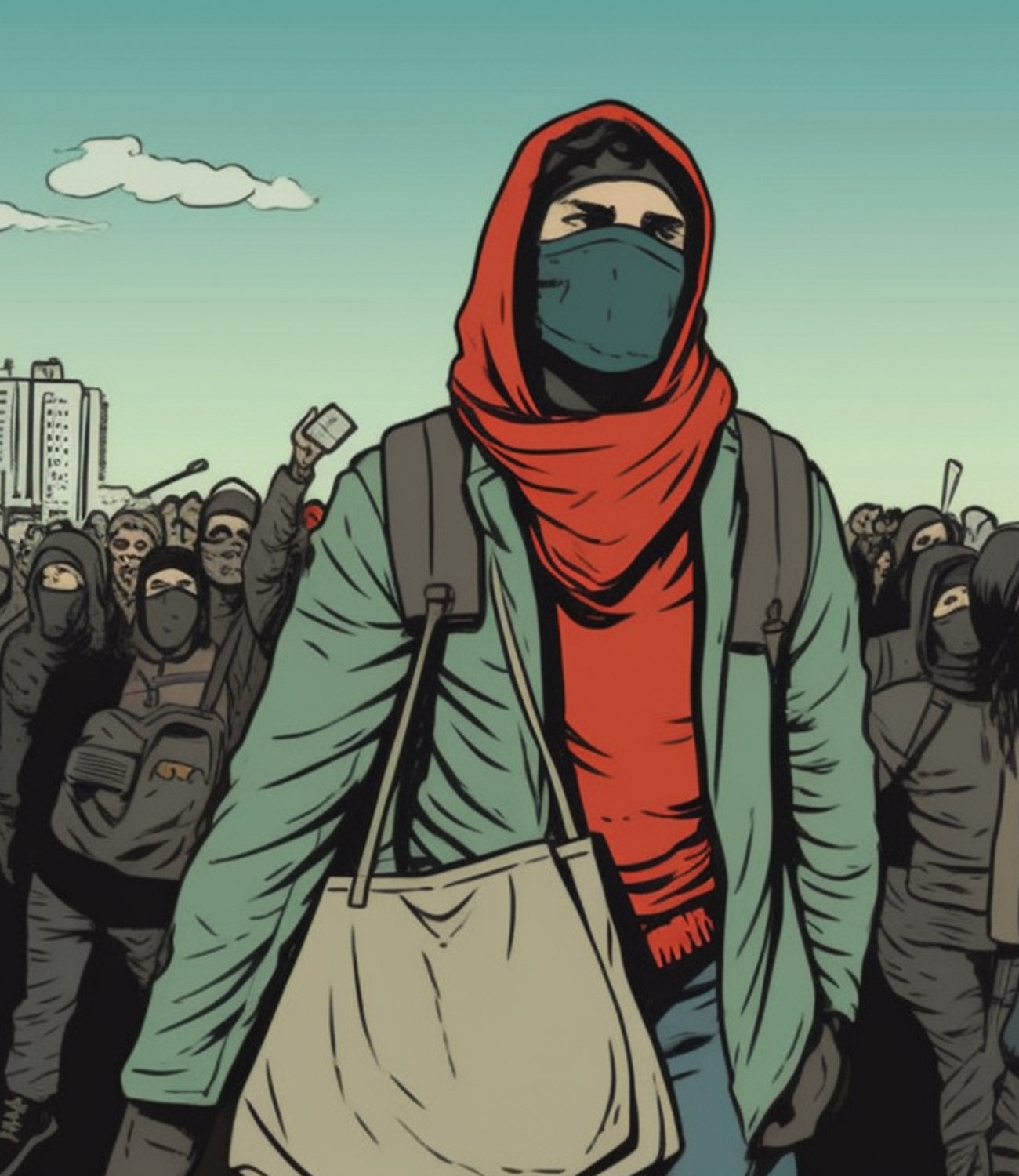 Bagtivism
Bags at the Intersection of Climate and Equity
Bagtivism is the powerful fusion of fashion and activism, aiming to address social and environmental issues, inspire conscious consumerism, and empower marginalized communities through the creation and promotion of sustainable bags and accessories. It transforms fashion into a catalyst for positive change, enabling individuals to make a statement while contributing to a more sustainable and inclusive future.
Framework
Positive Change through Inclusive Circular Economy
Through its comprehensive framework, Bagtivism aims to transform sustainable fashion, fostering positive change, and empowering individuals to make a difference through their everyday choices.
1+1 = 3: Bags + Activism = Social Inclusion + Climate Action + Sustainable Fashion
TEDx Talk
Upcycling for an Inclusive Circular Economy
In our TEDx talk "What Happens to Cars After They Die," we discuss the issue of 12 million plus car seat belts that will end up in India's landfills by 2025, creating an urgent need for innovative climate solutions. By rescuing these seat belts from auto scrap yards and turning them into stylish and durable products like bags, home decor items and adventure gear, social enterprises like Jaggery: Reimagining Waste can truly help revolutionize India's circular economy. Through our "Bagtivism" framework, we can open "Upcycling Centers" across the country, divert thousands of metric tons of waste from our landfills, create jobs for tens of thousands of underserved communities in India, and empower them to contribute to a more resilient future. We are humbled by the positive response our talk has received so far, and we're excited to continue working towards creating a more sustainable and inclusive future.
Materials
Our Essential Value Chains
By transforming industrial waste and surplus materials into valuable bag art, Jaggery is helping advance circular solutions from the Global South, mitigating environmental pollution, and creating jobs for the underserved communities of India.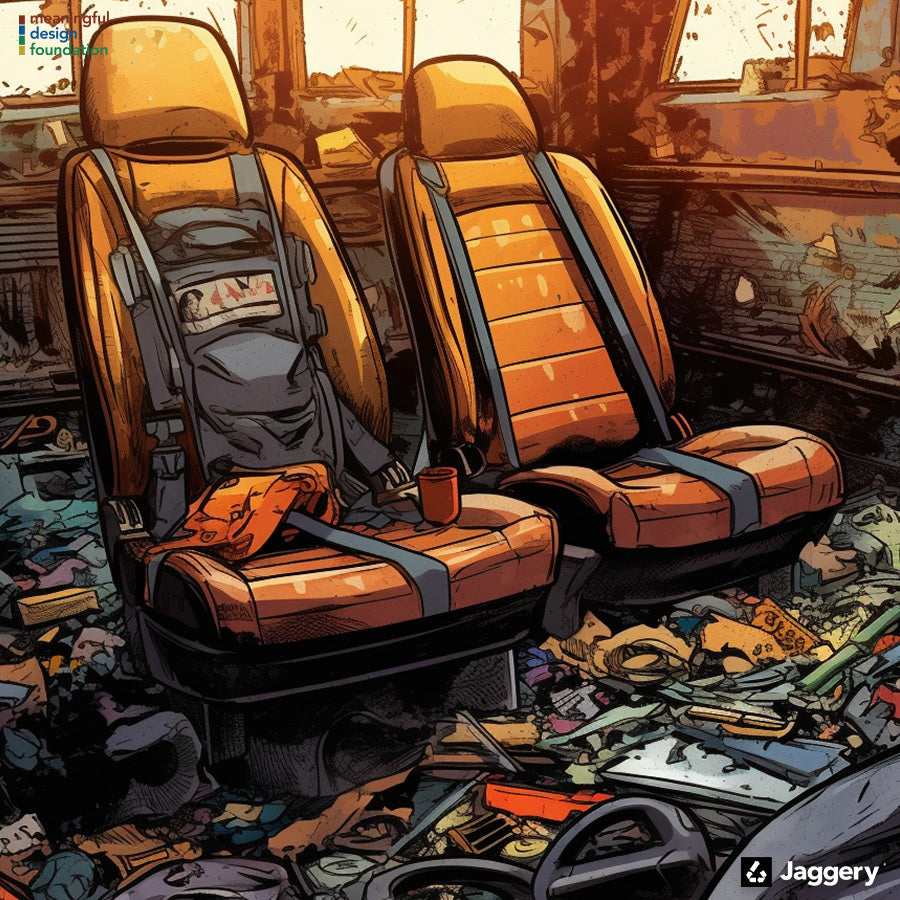 Car Seat Belts
India's vehicle scrappage policy came into effect in 2021 to phase out Motor Vehicles with an end-of-life vehicle (ELV) older than 15-20 years to reduce pollution. Currently most of the metal from these ELVs is recycled and reused while about 7800 tonnes of plastic remains unused*. Therefore the discarded seat belts and other plastic waste is ending up in scrapyards, landfills, or getting incinerated. By 2025 the ELV numbers would be nearly 3 million. This will result in 12 million car seat belts reaching Indi's landfills.With already saturated collection centers and landfills, Jaggery rescues material from the incinerator by carefully selecting end-of-life car seat belts and buckles that are rescued from auto scrap yards to create sustainable, well-designed products which are stylish, durable, easy to clean, and weatherproof.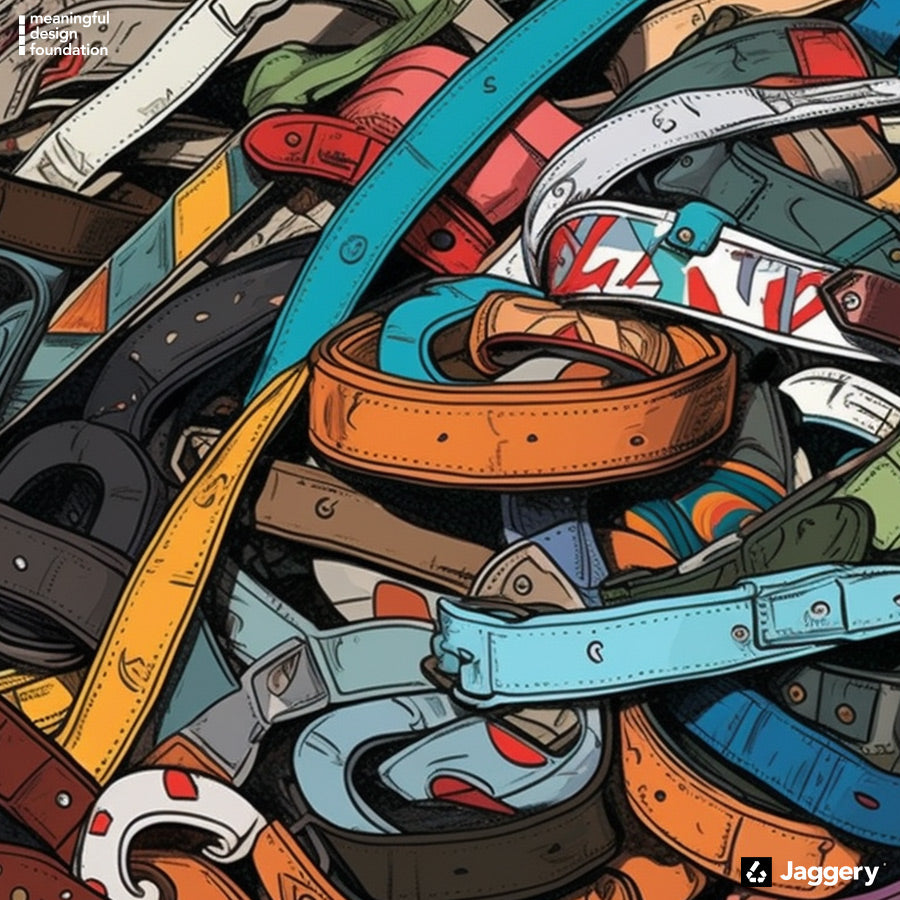 Cargo Lashing Belts
Every year across the globe more than 52 billion tonnes of cargo are shipped by air as stated by the The International Air Transport Association (IATA)*. Lashing belts are used to lift, secure containers and other objects from tipping, horizontal movement and bouncing during the air journey. But once the belts have reached their end of life they are treated as industrial waste and end up in landfills. An accurate quantity or number for such belts is unavailable for India. Jaggery procures these decommissioned lashing belts that have been decoupled from metal parts and hand crafts them into products that are stylish and durable.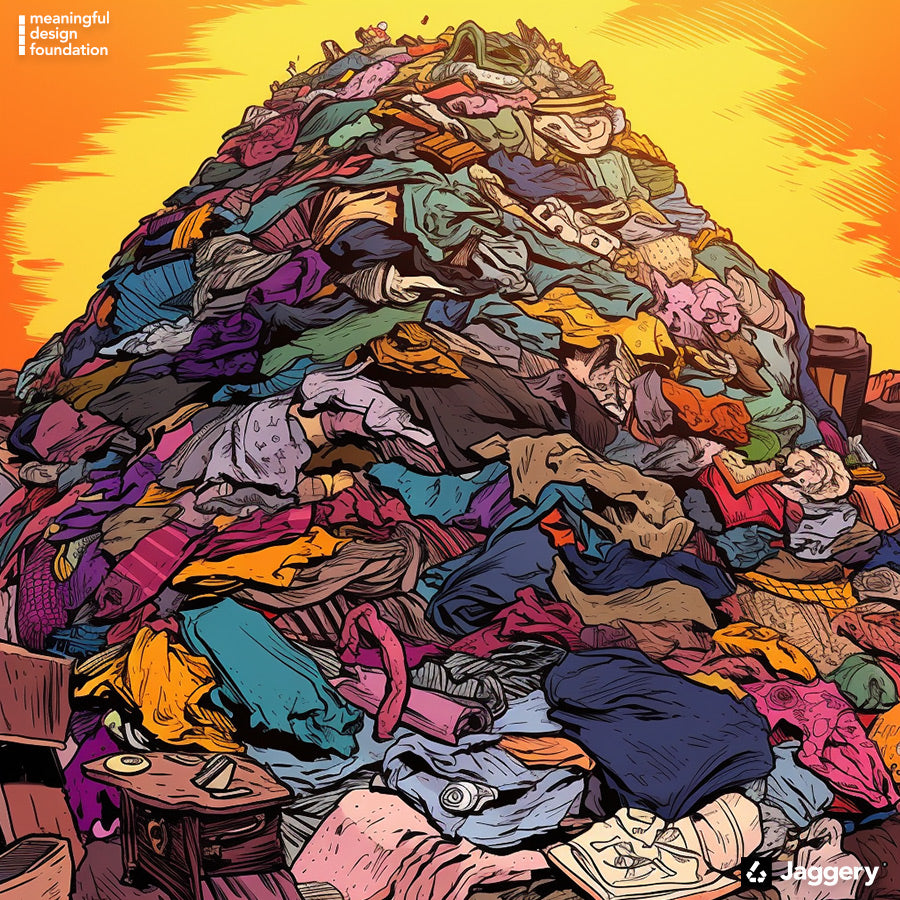 Textile Waste
Textile waste can be a major source of environmental pollution. When it is not properly disposed of, it can end up in landfills, where it can release harmful chemicals into the environment. Textile waste can also contribute to climate change, as it releases methane, a greenhouse gas, when it decomposes.
Here are some stats on the textile waste generated in India:
India generates around 7793 kilotonnes of textile waste annually.
This accounts for 8.5% of the global textile waste.
The majority of textile waste in India is generated by consumers (51%).
Factory waste and offcuts account for 42% of textile waste.
Imported waste contributes a further 7%.


Jaggery utilizes textile waste to reduce environmental pollution by upcycling it to make bags, home décor items, and other products. Upcycling textile waste is a great way to reduce waste and give old materials a new life.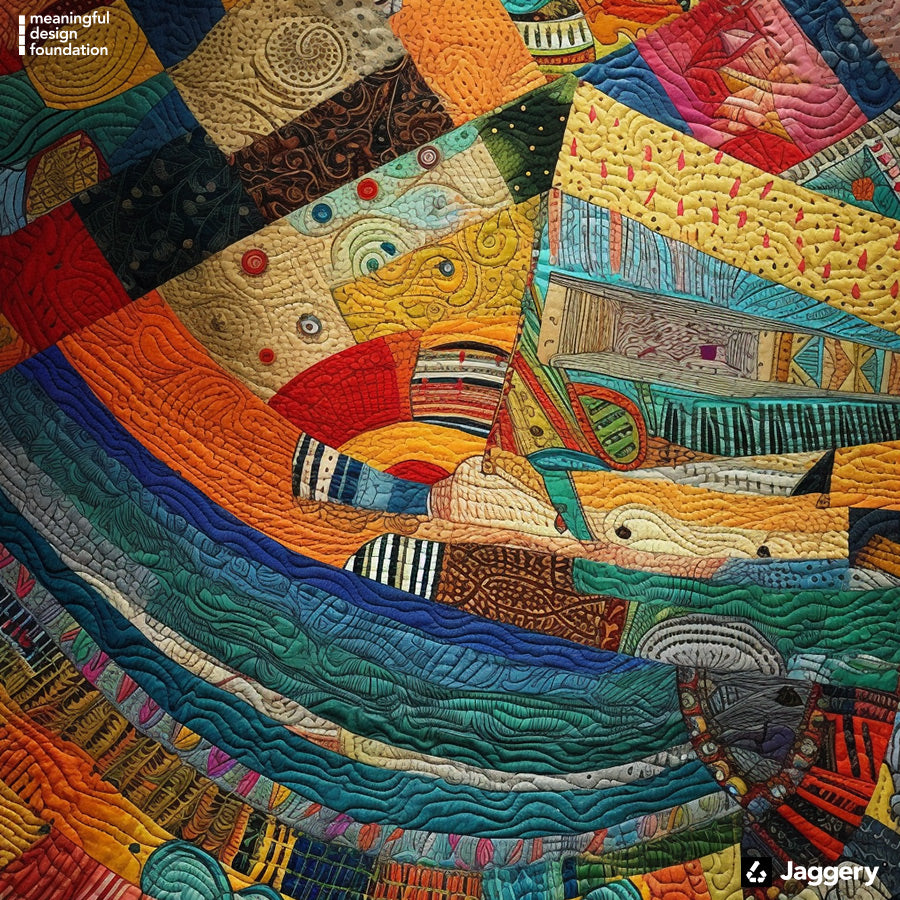 Kantha Quilts
Kantha quilting is a traditional Indian textile art form that has been practiced for centuries. It is typically made by stitching together layers of old sarees and other textile waste using a simple running stitch called the kantha stitch. The kantha stitch is what gives kantha quilts their distinctive wavy, textured appearance.
Kantha quilts are often made by women in rural communities as a way to earn income and to preserve their traditional culture. They are often given as gifts to family and friends, and they are also used as bedding, blankets, and prayer rugs. For our Punarprayog Collection, we create kantha quilt bags that are a great way to upcycle old kantha quilts. They are also a wonderful way to add a touch of Indian craftsmanship to our collections.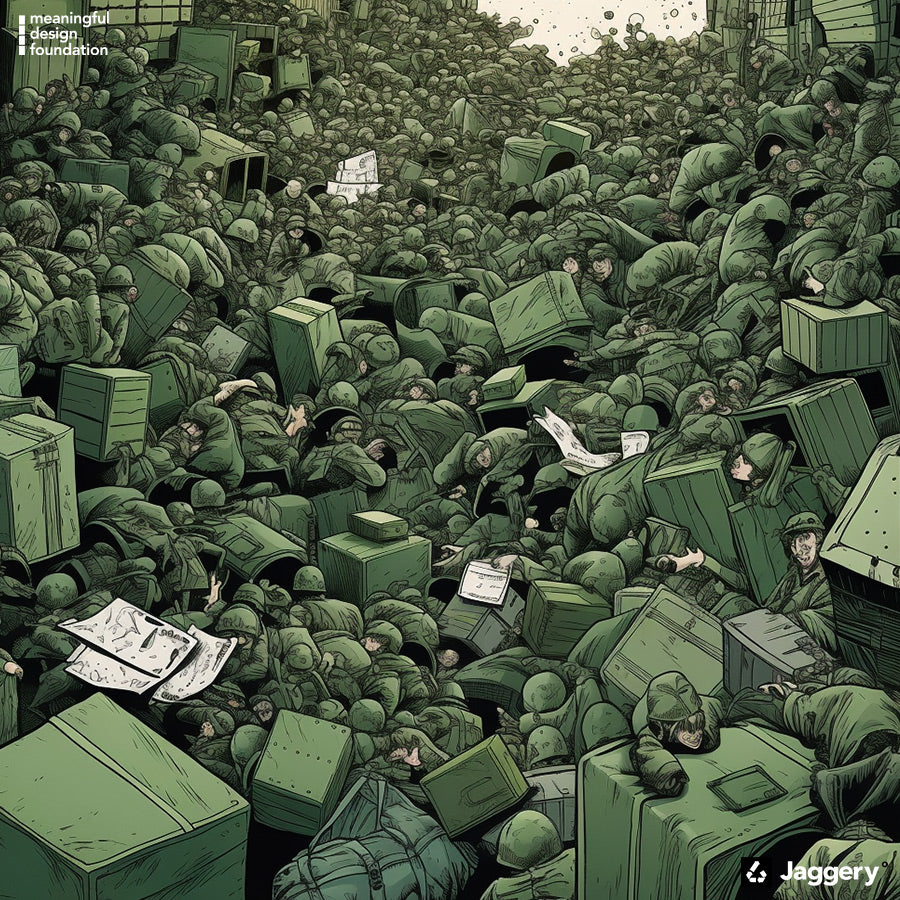 Army Canvas
The Indian army discards or decommissions an estimated 100,000 to 150,000 meters of canvas per year.
This canvas is typically made from cotton or poly viscose and is used to make a variety of items, including tents, tarpaulins, and backpacks.
The army's canvas is often discarded because it is damaged, worn out, or no longer needed.
The Indian army is working to reduce the amount of canvas it discards or decommissions. The army is also working to recycle more of its canvas.
By using decommissioned army canvas in our bags, we are helping reduce waste and support the Indian army's efforts to be more sustainable.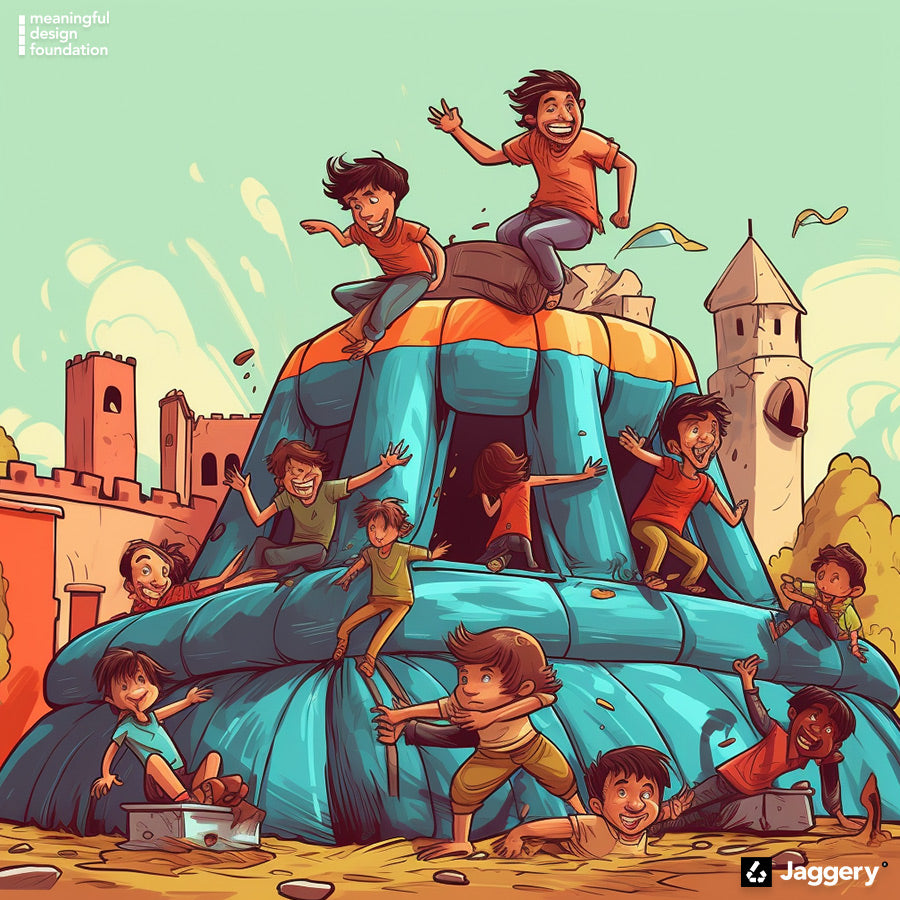 Bouncy Castle
India is the world's largest manufacturer of bouncy castles. The Indian bouncy castle industry is worth an estimated $1 billion annually.


Around 10 million bouncy castles are made in India each year.
Of these, around 2 million are discarded after they are worn out.

The discarded bouncy castles in India are a major environmental problem. They are often dumped in landfills, where they can release harmful chemicals into the environment. They can also contribute to climate change, as they release methane, a greenhouse gas, when they decompose.By upcycling discarded bouncy castles into bags, home decor items and camping furniture, Jaggery is able help to reduce environmental pollution and protect our planet.
Process
Design Out of Waste
Have you ever wondered what happens to all the waste around us? There's a lot of it, and it's not going anywhere anytime soon. But what if we could turn that waste into something valuable? That's where the Circular Economy Principle of Design Out of Waste Methody comes in! At Jaggery, we follow this process to create eco-friendly and sustainable bags out of waste materials. Let's take a look at the steps below that are involved in our car seat belt value chain.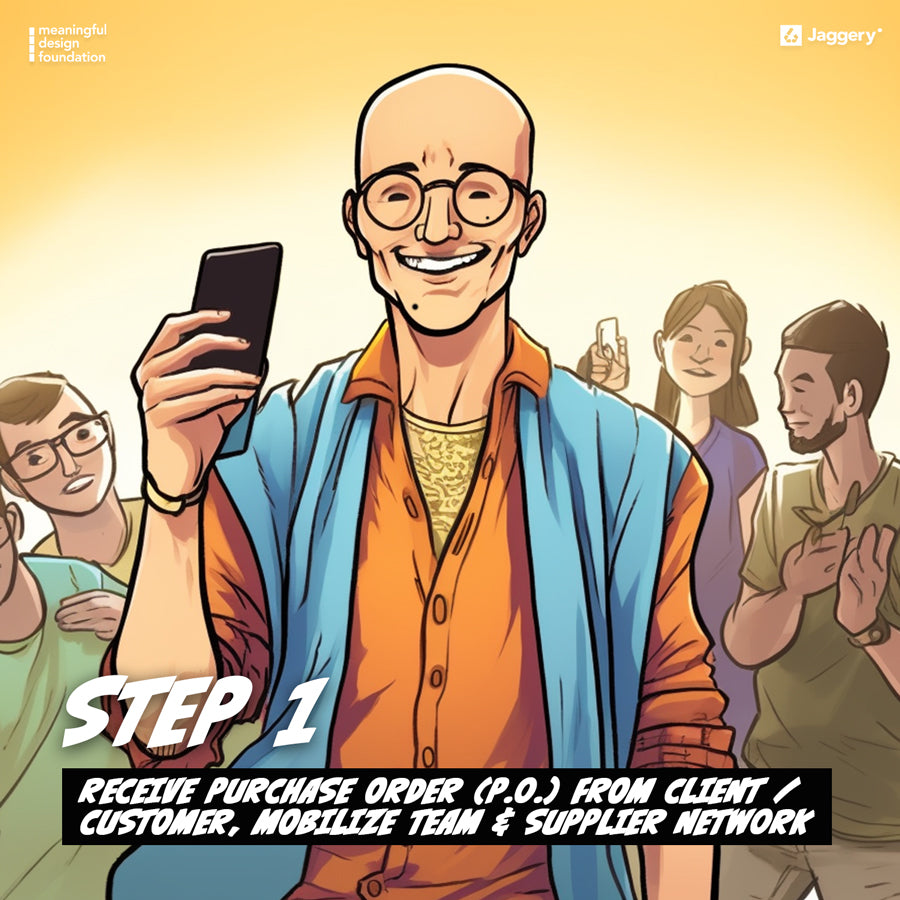 Step 1
Receive Grant or Purchase Order
First things first, we receive a grant or purchase order from a collaborator who wants eco-friendly bags made out of car seat belts. We then mobilize our team and supplier network to get the process started!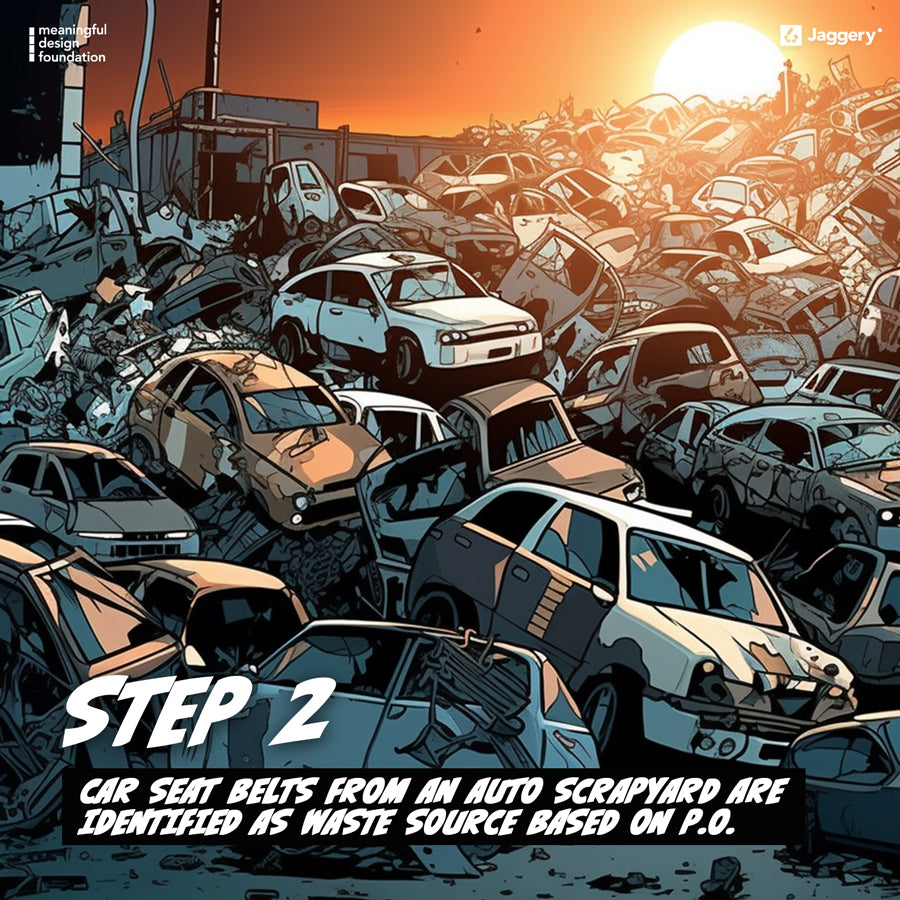 Step 2
Auto scrap yard identified as waste source
Next, we identify car seat belts from an auto scrapyard as our waste source based on the program goals and / or order quantities. These seat belts are no longer usable in cars, but they still have value as a raw material for bags!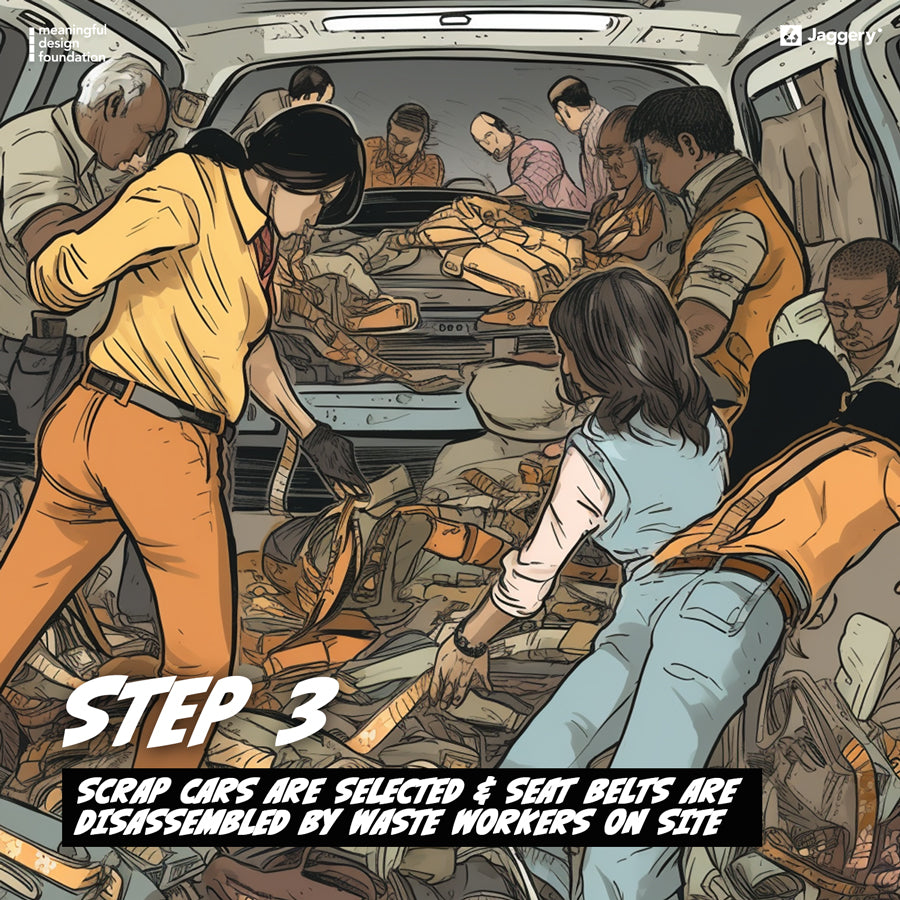 Step 3
Scrap cars selected and seat belts disassembled
To get our hands on these seat belts, we select scrap cars and send our waste workers to disassemble them on site. They carefully remove the seat belts so we can repurpose them.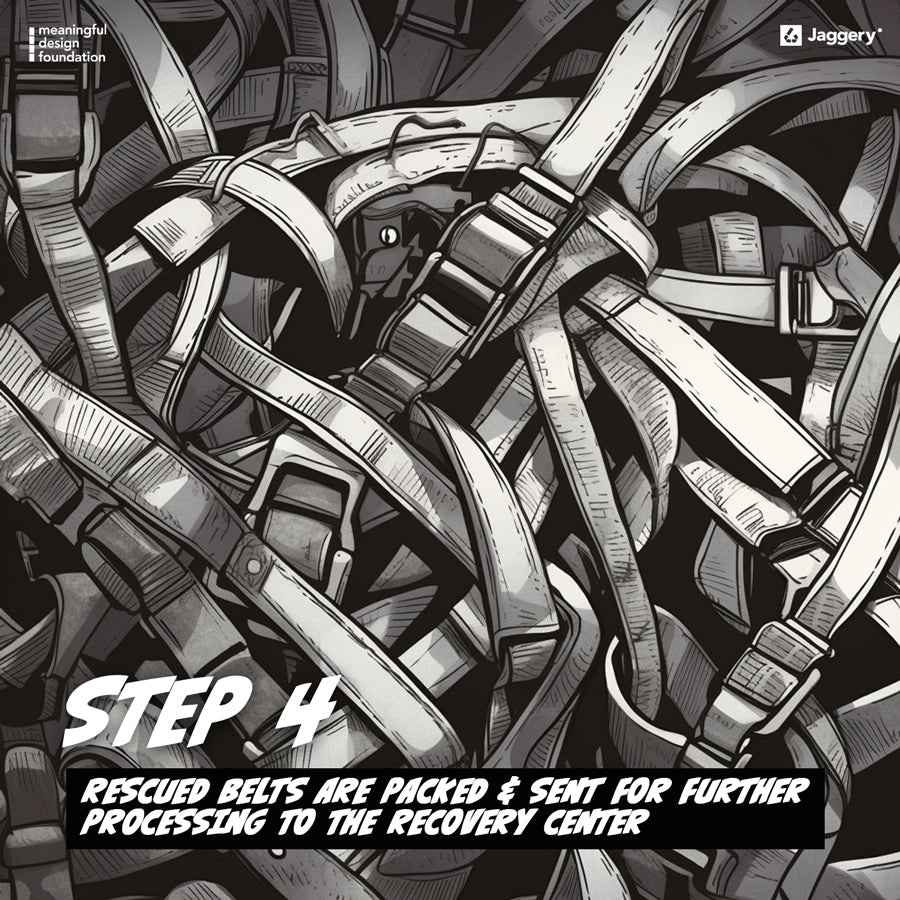 Step 4
Rescued belts are packed and sent to our recovery center
Once we've rescued the seat belts, we pack them up and send them to our recovery center for further processing. We don't just stop at the seat belts, though - we look for other ways to use the waste from the cars as well!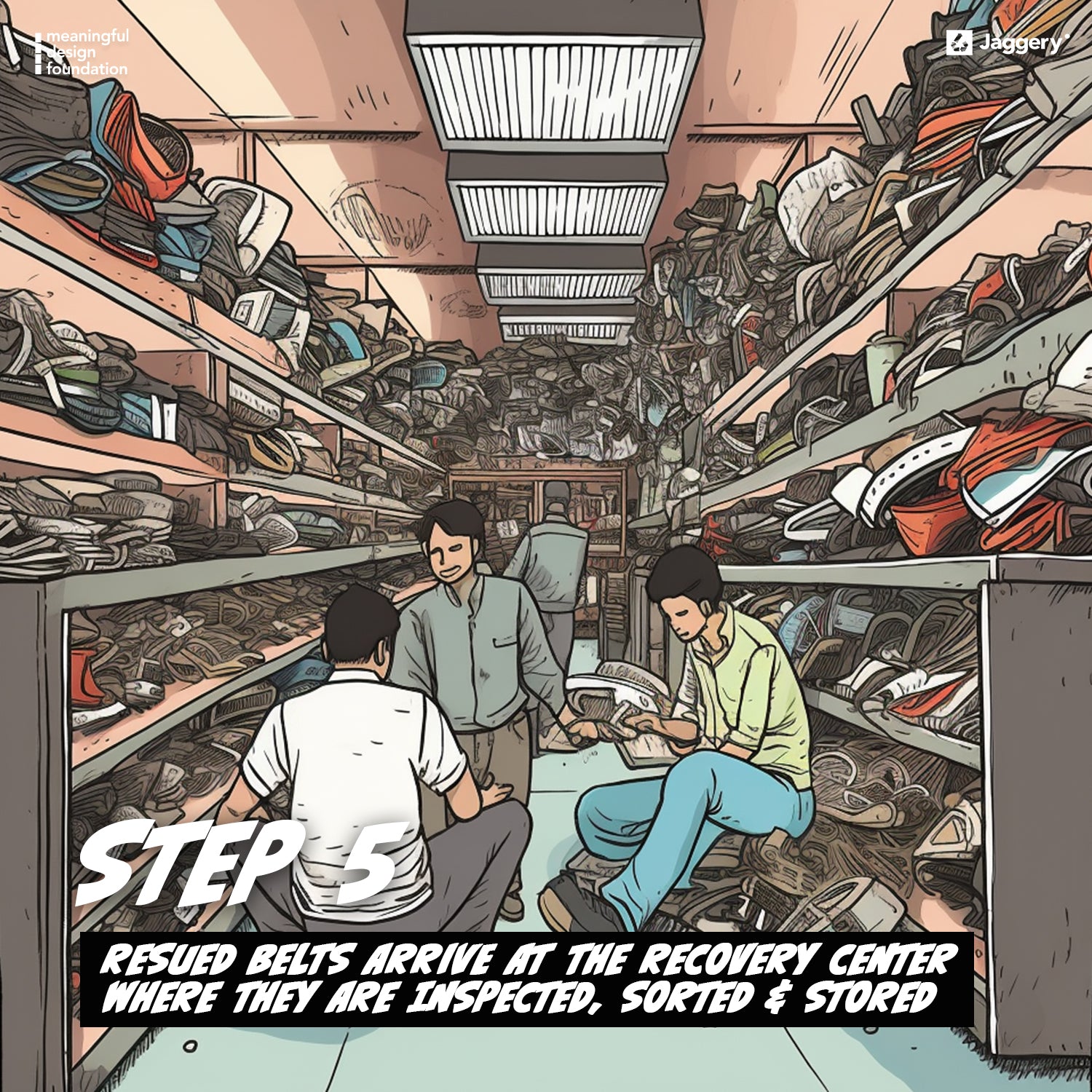 Step 5
Rescued belts are inspected, sorted and stored
The rescued seat belts arrive at our recovery center where they're inspected, sorted, and stored. We make sure that every belt is in good condition and ready to be transformed into a beautiful and sustainable bag!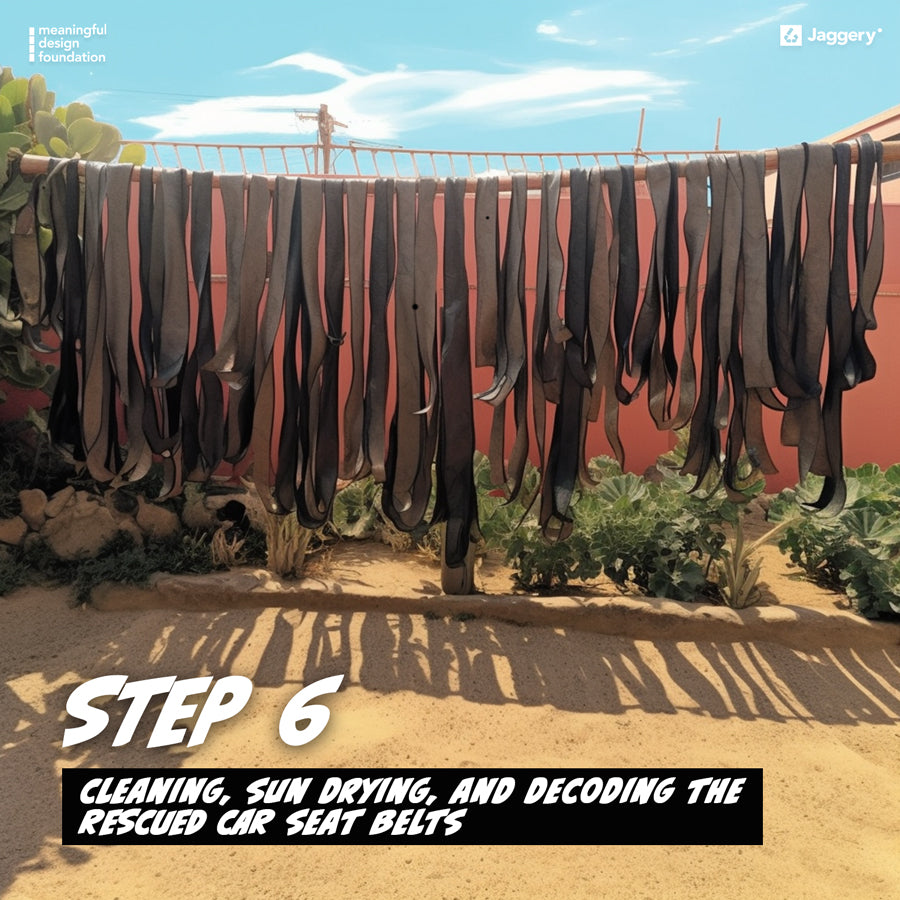 Step 6
Cleaning, sun drying, and decoding the seat belts
After rescuing the seat belts, we kickstart their transformation process! First, we give them a refreshing scrub to remove any dirt or grime they might have collected. Then, we let those belts bask in the warm embrace of the sun, allowing them to dry naturally and recharge for their upcoming fashion journey. Meanwhile, as we clean, we also dive into the exciting task of decoding their potential! With our creative hats on, we brainstorm new product designs, mix and match colors, and play with patterns. It's like breathing new life into these seat belts, giving them a well-deserved fashion makeover!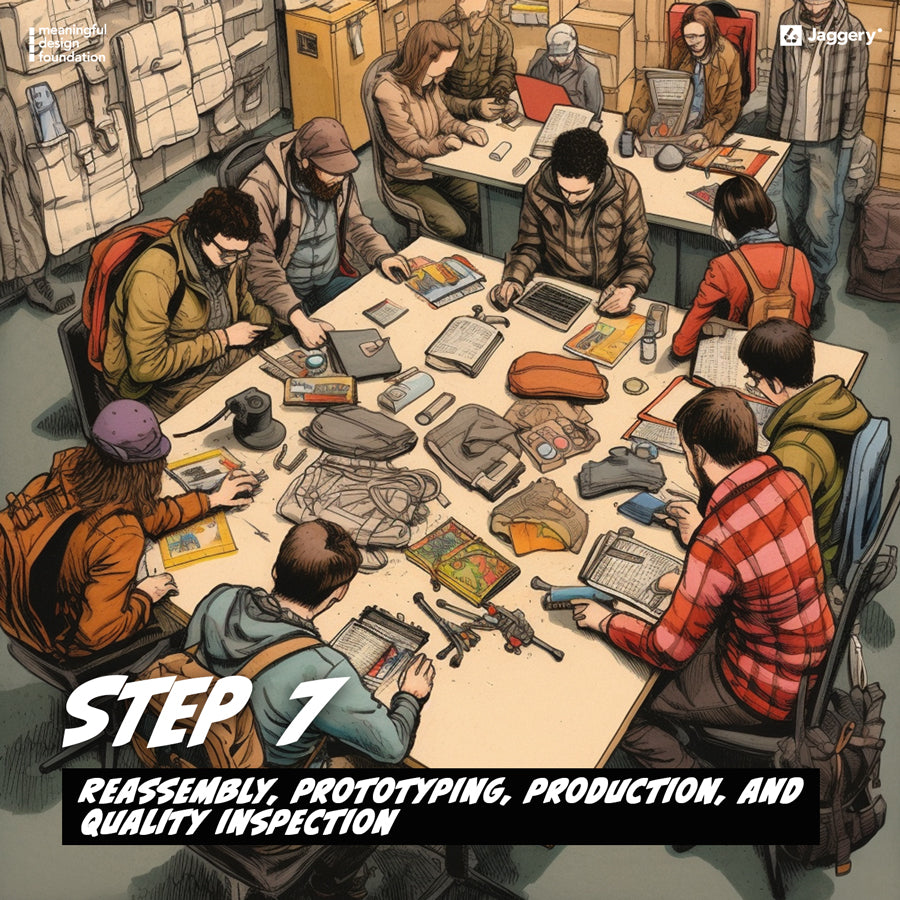 Step 7
Reassembly, prototyping, production, and quality inspection
Time to put our designs into action! We reassemble the seat belts into the carefully planned bag patterns. We create prototypes, test them out, and make sure they're both functional and fabulous. Once we're satisfied with the results, we kick off the production process. And of course, before any bag leaves our workshop, it undergoes a thorough quality inspection. We want to make sure each bag is top-notch and ready to rock the fashion scene!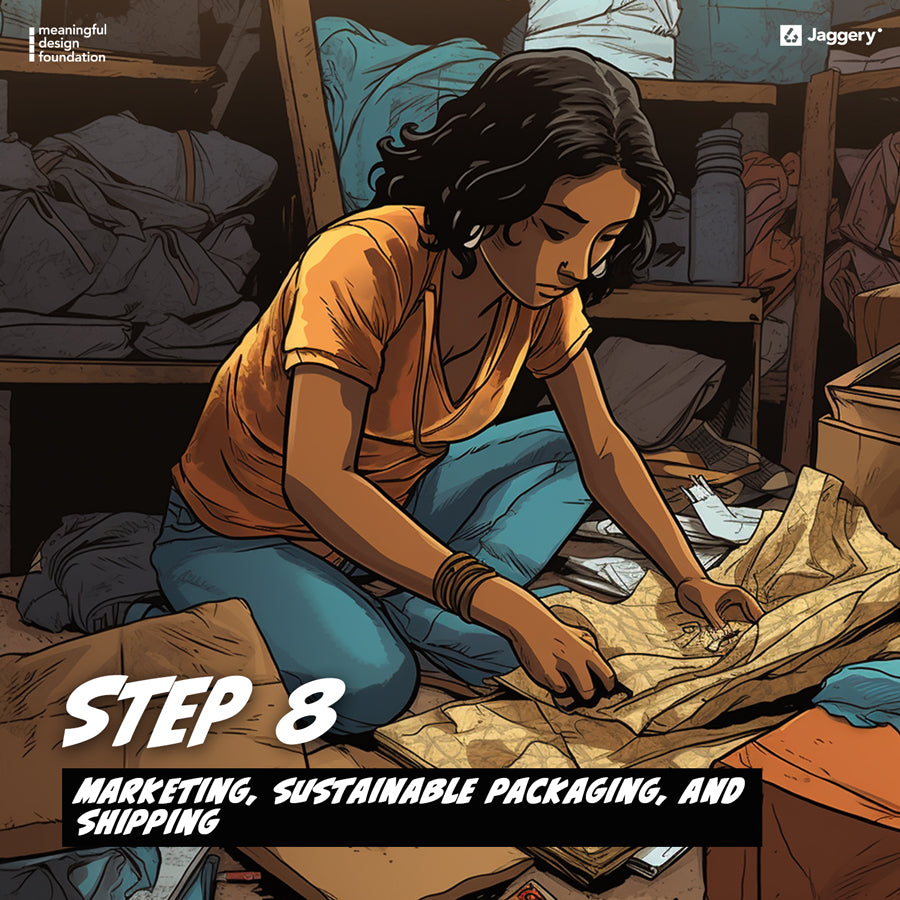 Step 8
Marketing, sustainable packaging, and shipping
We've got some seriously awesome bags on our hands, so now it's time to spread the word! We get the marketing wheels turning, showcasing our unique and eco-friendly creations to the world. And of course, we're committed to sustainability from start to finish. That's why we carefully package our bags using sustainable materials, because we believe in walking the talk. And then, it's off to the shipping stage, where each bag is lovingly prepared to make its journey to its new owner. Bon voyage, little bags!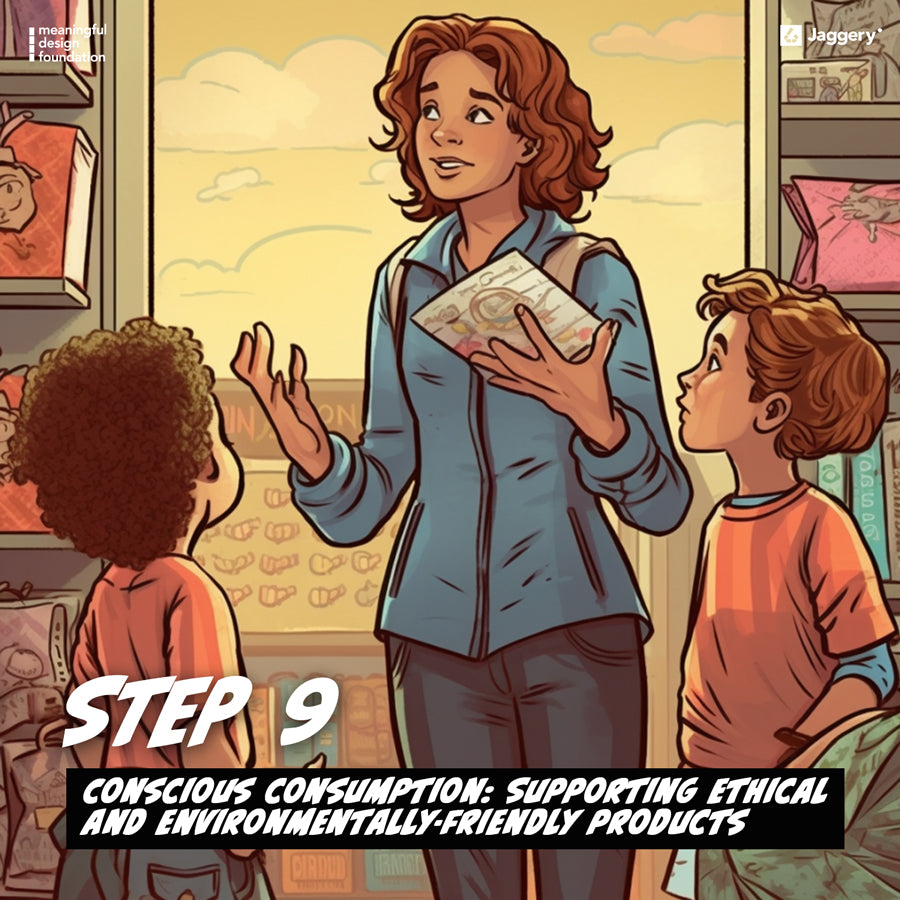 Step 9
Conscious consumption
When our bags find their forever homes, it's all about conscious consumption. We want our customers to appreciate the value of sustainable fashion and make choices that align with their eco-conscious hearts. It's not just about the bag itself; it's about embracing a mindset of mindful shopping and supporting ethical and environmentally-friendly products. Every time our bags are used, it's a little victory for the planet!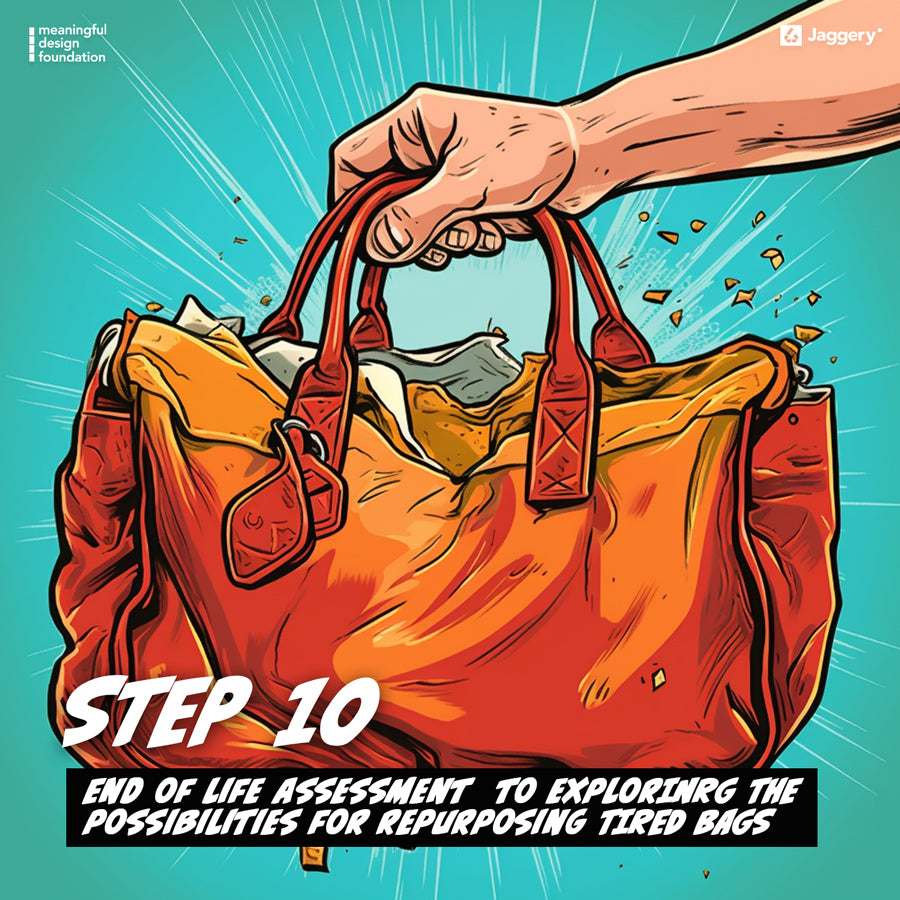 Step 10
End-of-use assessment
Finally, we believe in taking responsibility for our bags even when their time with their owners comes to an end. We conduct end-of-use assessments to explore possibilities for recycling or repurposing the bags. We want to make sure that even after their stylish adventures, our bags continue to contribute to the circular economy and find new purposes. It's all about closing the loop and minimizing waste. There you have it, the final steps of Jaggery Bags' car seat belt value chain.
FAQ
Have a question ? We are here to help.
How are your products made sustainable?

Our products are made sustainable through upcycling and repurposing materials, embracing circular economy principles, and supporting fair trade practices, ensuring minimal environmental impact and positive social change.
How are your products good for me?

Our products are ethically crafted, sustainable, and of high quality, providing you with unique low carbon footprint choices for your lifestyle needs. By supporting our cause you will reduce waste from entering our landfills and help create employment opportunities for the disadvantaged communities.
How do you calculate the environmental impact of your products?

We calculate our environmental impact through a comprehensive life cycle assessment, considering factors such as raw material sourcing, manufacturing processes, transportation, and end-of-life considerations, to measure carbon emissions, resource consumption, and waste generation.
How do you measure the social impact of your products?

We assess our social impact through a rigorous evaluation that encompasses various aspects, including the livelihoods and well-being of artisans, gender equality and empowerment, community development, and support for marginalized groups. We utilize impact measurement frameworks and collaborate with partners to gather data and track the positive social outcomes generated by our products.
Where can I find your products?

You can find our products on our website and select retail partners who share our commitment to sustainability and ethical practices.
I have a question, how can I contact you?

For any questions or inquiries, please reach out to our customer support team via email or through the contact form on our website, and we will be happy to assist you promptly.